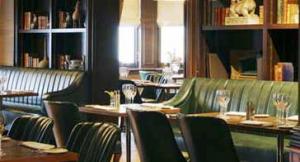 Aubrey in the Irish-owned Kensington Hotel have put together a traditionally Irish 3 course set menu to be served for lunch and dinner on St Patrick's Day, priced at just £35.
Baby spinach, bacon and cashel blue cheese salad will be served with a walnut dressing, followed by a traditional Irish stew with creamed potato, buttered cabbage and homemade soda bread. Irish coffee chocolate mousse with oatmeal tuilles will bring out the Leprechaun in everyone!
All diners at Aubrey on St Patrick's Day will receive a voucher offering 50% off their meal next time they dine at the restaurant.