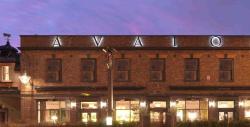 The Renaissance Pubs' Ltd flagship site, The Avalon in Clapham will host its very own Beer Festival on Saturday and Sunday 4th and 5th October, from12pm – 6pm.
As Britain's festival season comes to an end, The Avalon has invited its favourite local and British breweries to take to the stage and showcase their best beers in the beautiful surroundings of The Avalon's back garden. Brew masters will sing the praises of each of their ales, perform a proper tasting session and answer any questions fans may have.
Just like any other festival, it would not be complete without it's'food stands'. This year, The Avalon Beer Festival introduces it's own street-food-style grill selling the beer-friendly Dirty Burger, the New York Frank and Peri Peri Chicken.
Tickets to The Avalon Beer Festival cost £10 which includes three FREE pints or six halves. (Additional pints cost £4.) You can purchase tickets from the bar at any Renaissance pub in advance. A limited number will be available on the day for the ultimate relaxed vibe.
The Avalon Beer Festival line up includes:
·      The Belleville Brewing Company  – a brand new local microbrewery, brewing American style beers, over here, in London.
·      The Five Points Brewing Company  – an independent brewer from Hackney, East London busy making beer full of hops, aroma and flavour.
·      Sambrooks  – this Battersea brewer is responsible for the cracking Wandle and Junction Ale. They will be sampling these and some of their other exceptional tasting London beers at the festival.
·      Timothy Taylor  – a champion brewer who has been making beers with real pulling power for over 150 years.
Performances from the brew masters will be running throughout the weekend from 12pm – 6pm each day. Food and drink will also be available. Beer it up.
The Avalon, 16 Balham Hill, Clapham, London SW12 9EB
T: 020 8675 8613 www.theavalonlondon.com