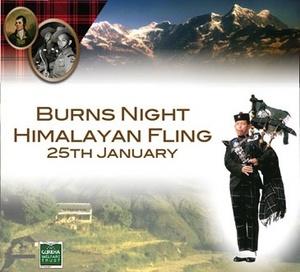 Back by popular demand, Babur's Burns Night Himalayan Fling is an event you won't want to miss. In aid of the Gurkha Welfare Trust, the evening begins with a Gurkha piper heralding the entrance of the Nepalese bhuton, a haggis like dish. The menu continues with Slow-roasted Shoulder of Lamb marinated in Amrut Indian single malt whisky, finishing off with Warm Barley and Amrut halwa with raspberry coulis.
Headlining the entertainment bill of Burns songs and poetry is harpist and soprano, Norma Ritchie, who has sung and played the Celtic harp on Burns Nights in exotic locations such as Cochin and Kobe, Japan. There will be other surprise guests and friends of Babur too.
There will be a raffle with the first prize donated by Chivas Regal who will send out one of their best tasters armed with an array of high-end whiskies to provide an unforgettable whisky tasting for 10 people. There is also a pearl necklace from Pearl Magpie (www.pearlmagpie.co.uk) and dinner for four from your favourite Indian restaurant.
The evening starts at 7:30 and the bhuton will be piped in for dinner to start at 8.00 pm. and the cost of £49.95 per person includes a £10 donation to the Gurkha Welfare Trust.
For further information and to book a table, contact Babur.
Babur, 119 Brockley Rise, London SE23 1JP, Tel: 020 8291 2400 www.babur.info