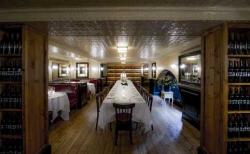 Good French Bistros are hard to find, especially in France. Keith McNally's Balthazar, which arrived in London from New York carrying more expectations than a footballer signed for a telephone number-sized transfer fee, represents what we think a Bistro should be. It's a construct that may have never actually existed in France, or not since Sartre was in short trousers anyway, it's semi-grand, faux-opulent, and heavy on all the signs and signifiers of'A French Bistro'.
Bistros plough a fertile food middle-ground. They lie between the messy mob eateries offering no-risk American junk food and harsh places serving intrinsically tasteless noodles submerged in fatty stock on the one hand and the'posh restaurants' that offer a real chef, real napkins and a really large bill on the other. In a bistro you get to eat like a grown-up, but informally and with proper choice on the menu.
Balthazar has done well in its short existence, despite a bit of sniffiness from some critical quarters. You can't argue with bums on seats though; ask any restaurant owner –  great reviews or a full restaurant? There's no prizes for guessing the answer.
The news about Balthazar, and why Foodepedia, along with a pack of equally hungry writers, were invited to lunch, is the new private room upstairs. This boudoir of a room certainly feels right with antique timber flooring, art deco detailing, deep red leather banquettes and a lounge area with a pewter-topped bar plus genuine Parisian bits and pieces dotted about, although I had a sense the ceiling was a bit too low as a result of the division of the space available. Having its own bar makes it a self-contained party place with its own street entrance, so up to 60 (sitting) guests won't have to shoulder through the vulgar crowds downstairs.
Set menus start from £45 and go to £65 but we were treated the £50 deal. A starter of bayonne ham, rocket and fig was decent, if unremarkable but the seabass'en papillotte' was very good. Unwrapped on the plate it jetted great aromas and the fish was perfectly cooked, with great flavours from its bedfellows of mussels, tomatoes, Jerusalem artichokes and fennel. Very much what I personally like to eat and a sensible large group dish that does not put undue strain on the kitchen.
A creme brulee was an effortless crowd-pleaser, again a sensible choice for the kitchen to be able to make up in advance, and a big plate of petits fours with the coffee also made a lot of sense and they were cheerfully indulgent.
Downstairs the place was heaving as we left, and on a Tuesday too, which can't be bad for business .
A different space, simple but tasty cooking? The private room at Balthazar could well be just the place for your Christmas party.
Balthazar is open from 0730 to midnight (from 0900 on Saturdays, and from 0900 until 2300 on Sundays).
4-6 Russell Street, Covent Garden, London, WC2B 5HZ