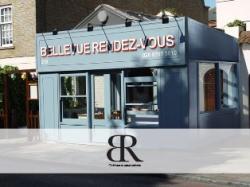 The recently launched Bellevue Rendezvous in Wandsworth is hosting its first wine tasting event on Monday 5th October. Chef patron Pablo Gallego has created a 6-course tasting menu which will be paired with a selection of French wines priced at £60 per head.
This wine tasting event, under the title "When the Summer falls, the Autumn sun comes up!" will be hosted in conjunction with their suppliers, Thorman Hunt and will feature ingredients that reflect the change in the season. Dishes/wines on Pablo's special tasting menu will include chilled cucumber soup with mint and langoustine served with Sylvaner 2008, Domaine Bruno, Sorg; red mullet fillet with aubergine, cumin and piment d'Espelette served with Pouilly-Fume 2007/8, Cailbourdin; smoked duck with fresh fig, foie gras and dryfigs served with Tavel rose 2008, Montezargues; wild duck fillet with spiced pear and cep jus served with Langhe Rosso 2005, Luigi Baudana; warm goat cheese with walnut and caramelised apple served with Vouvray Moelleux Ch Gaillard2005; and quince tarte tatin with honey ice cream served with Maury 2007,Domaine Pouderoux. This looks like an interesting menu, and paired with wines appears to be a good price.
Bellevue Rendezvous has a set menu featuring Gallic favourites and a regularly changing à la carte. French wine is an integral part of a meal at the restaurant and customers have the option of enjoying wine from the barrel, available by the glass (£4), halflitre (£10) and litre (£18). There is also a selection from 'la cave du patron'. For more information about Bellevue Rendezvous, follow the link below.
Bellevue Rendezvous, 218 Trinity Road,London SW17 7HP. Telephone 020 8767 5810