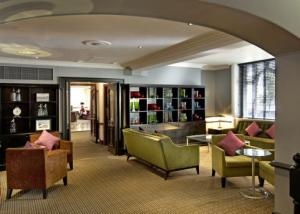 The bar at the Hilton London Green Park has been revamped, with a new name, a new interior and a new food and drink menu. The Berry Bar & Lounge is now serving up a selection of gin-focused drinks and food designed to complement the liquid offerings.
As well as the usual wine, spirit and soft drink suspects, the Berry Bar & Lounge has a range of affordable cocktails featuring premium gins, starting at £6.95.
The gin cocktails available include Earl Grey Martini, which is served at the table in a frozen tea pot and consists of Earl Grey infused Beefeater gin shaken with lemon juice and syrup de gomme, and The London Lemonade featuring Plymouth gin and elderflower. There's also the fabulously refreshing Ginger Fizz cocktail which combines Bombay Sapphire with fresh ginger and bitters.
The interior revamp of the Hilton London Green Park's bar means that it's now a relaxed, modern, townhouse-style spot to enjoy a drink or snack in central london. Dove grey walls, boldly coloured furniture and low level lighting mean there's an intimate atmosphere. The adjoining conservatory is flooded with natural light and is a tranquil place to stop for a while for a morning coffee or Afternoon Tea.
Berry Bar & Lounge has also introduced a Gin Afternoon Tea. On top of the traditional sandwiches, scones, cakes and tea, this Beefeater 24 Afternoon Tea includes a Beefeater 24 Gin and Fever Tree tonic with your choice of either peach, grapefruit, mint or chocolate bitters. The bitters will be brought separately to the table so you can flavour the drink yourself. Priced at £24.50 per person, it's a modern twist on the great British tradition of Afternoon Tea.
If you're feeling peckish you can tuck into some of the tapas-style bar bites at Berry Bar & Lounge, which include Seared Scallops served with a soy and chilli reduction, Mini Fish and Chips with spiced potatoes and caper mayonnaise or Smoked Salmon Crostini with ginger and chive crème fraiche.