This Saturday 17th, London Fields pub the Prince Arthur will be home to a one day pop-up courtesy of Crowdfunding success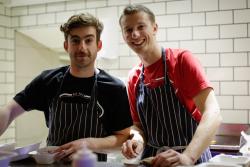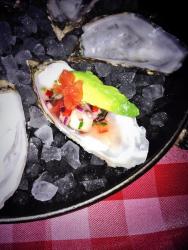 story The Bloody Oyster.
The 19th Century public house, which has been restored to its former glory, provides the setting for Bloody Oyster boys Ed Ford and Ben Hamilton's one day oyster knees up, giving fans a sneak peak at the pearls before the Bloody Oyster's newly-remastered double-decker bus takes up residency on Southbank this summer.  
Tickets including bivalves on the half shell; fresh, ceviche-style in lime, orange, red onion, chilli and coriander and grilled, as well as The Bloody Oyster's signature'Po'Boy', a deep-filled fried oyster burger and fries.
Drinks will feature three original takes on the classic Bloody Mary, including a signature mix using stout and cucumber and a veggie version that is sans anchovy-infused Worcestershire sauce (perfect if your Friday night has left you in hair-of-the-dog territory!)
Snag a £19 ticket to enjoy The Bloody Feast (which makes it sound a little bit Purple/Red Wedding-y), where you get a signature Bloody Mary, a glass of house wine or stout, the Po'Boy and friesand 3 oysters in the half shell (fresh, ceviche and grilled)
Tickets can be purchased here.