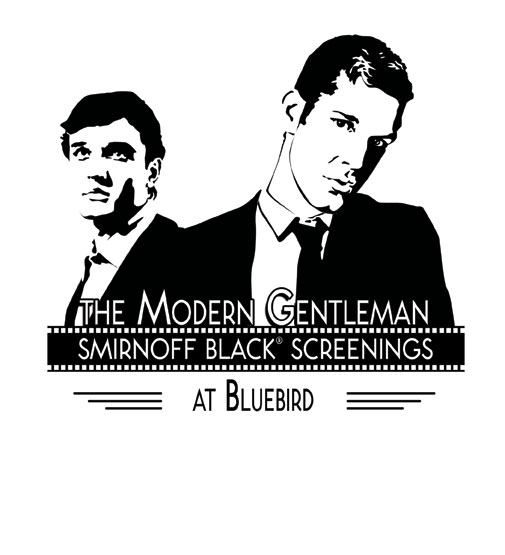 An evening of film, food and stylish cocktails to celebrate the modern gentleman
Following the sell-out success of last year's 1950's era Hollywood series, the Smirnoff Black Screenings will be returning to Chelsea favourite Bluebird this summer with an altogether more gentlemanly vibe. Celebrating leading modern gentlemen of the silver screen, the Smirnoff Black Screenings will kick-start a two month residency on 15th July 2009.
Each Wednesday at 9pm guests will be invited to enjoy a big screen performance from one of Hollywood's most debonair stars as they sip distinctively smooth and stylish Smirnoff Black vodka cocktails created in honour of these leading men. Bluebird executive chef Mark Block has created a delicious menu for guests to enjoy in the restaurant from 6pm before the film screenings. Tickets cost £25 per person and include entry to the film, a Smirnoff Black cocktail, a main course and a dessert.
The restaurant and courtyard will be given a sophisticated makeover for the duration of the Smirnoff Black Screenings, including chic sun loungers, black and white furnishings and staff in matching black and white summer uniforms; all reflecting the stylish tone of the evening.
To avoid disappointment, guests are advised to book tickets for these exclusive evening events in advance by calling Bluebird on 020 7559 1000.
Smirnoff Black Screenings
Dates: Wednesday 15th July – Wednesday 2nd September 2009
15th July Alfie (1942) starring Michael Caine
22nd July Oceans 11 starring George Clooney
29th July Talented Mr Ripley starring Jude Law
5th August Mission Impossible starring Tom Cruise
12th August The Dark Knight starring Christian Bale
19th August The International starring Clive Owen
26th August Catch me if you can starring Leonardo Di Caprio
2nd September Casino Royale starring Daniel Craig
Exclusive Smirnoff Black ® Vodka Cocktail Menu
Bar Manager Matthew Widdowson has created a cocktail menu that will be available throughout the Smirnoff Black Screenings; each recipe is inspired by one of our leading modern gentleman and is made with super premium Smirnoff Black vodka.
Man about Town
40ml Smirnoff Black vodka shaken with 10ml pressed watermelon liqueur, fresh raspberry and pressed apple juice. Served long over crushed ice.
1.8 units
Danny & Rusty
25ml Smirnoff Black vodka, 25ml Martini Rosso, and 25ml Campari served short on ice with an orange wedge
2 units
Amalfi Cocktail
40ml Smirnoff Black vodka shaken with 25ml Limoncello, 5ml Galliano, amalfi lemon juice, mint and amalfi lemon leaves. Served straight up.
2.6 units
Secret Agent
50ml Smirnoff Black vodka shaken with pressed apple juice and passion fruit. Served short over ice.
2 units
The MidKnight
40ml Smirnoff Black vodka shaken with 15ml Opal Nero Black Sambuca, 20ml Cointreau and cranberry juice. Served straight up.
3 units
International Cocktail
50ml Smirnoff Black vodka shaken with fresh cucumber, lemon juice and sugar and topped with Fentiman's ginger beer.
2 units
Catch
40ml Smirnoff Black vodka shaken with 10ml Amaretto, 10ml Cherry liqueur, orgeat with a dash of Benedictine and cranberry juice. Served straight up
2.4 units
Vesper Lynd
15ml Smirnoff Black vodka shaken with 45ml Tanqueray gin, 7.5ml Lillet Blanc and Angostura bitters. Served straight up in a champagne saucer with a lemon twist.
2.6 units
To Book
Guests can book tickets by contacting Bluebird directly:
Bluebird
350 King's Road
London SW3 5UU
020 7559 1000
www.bluebird-restaurant.com