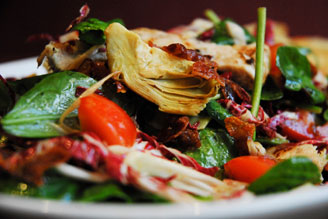 Combining the freshness of Italian cooking with great new ingredients, Strada has launched 12 new dishes on its summer menu.
Risotto, a Strada speciality, now includes Risotto Cappesante with scallops and the Risotto alla Zucca which has butternut squash, spinach, toasted pine nuts and crisped pancetta.
There's a great new seasonal pasta dish, Orecchiette alla Ligure, with Genovese pesto, broad beans, artichokes and roasted tomatoes as well as a classic Gnocchi Sorrentina starter with plum tomatoes, fresh basil and buffalo mozzarella.
The renowned hand stretched Strada pizzas have two new additions – Formaggio di Capra, goats cheese with balsamic onions, walnuts and fior di latte mozzarella and the Caprese, a light summer pizza with a hot base and cool topping of fresh plum tomatoes, rocket, Parma ham, buffalo mozzarella and shaved Parmesan.
Two new salads have been created, the Insalata Romana with grilled chicken, pancetta and artichokes plus the Insalata di Parma e Pera a simple mix of Parma ham, pear, baby spinach and radicchio.
Fish, an important element in the Strada menu, includes a whole gilthead bream stuffed with lemon and thyme with a fennel, olive and tomato.
There's also Lombardy's famous Salsiccie Montovana, roasted Italian sausages with grilled polenta, rosemary infused borlotti beans and Swiss chard.
New desserts include Cestino di Frutti, fresh strawberries and blueberries in a biscuit basket, and Torta di Ricotta which is a crisp pastry tart filled with ricotta cream, toasted almonds & pine nuts.
Strada also has an extensive regional Italian wine list ranging from crisp soaves to rich rounded Valpollicella Ripasso to sweet Vin Santo del Chianto dessert wine.