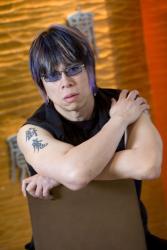 Bo London is opening Thursday 6th December in Mill Street  Mayfair, featuring the "X-Treme" Chinese cuisine of chef patron Alvin Leung from 2 Michelin starred Bo Innovation in Hong Kong. (read all about that place here)
Bo London will introduce Alvin's signature cooking style, "X-treme Chinese" to the city, playing with ingredients and techniques with immeasurable precision and combining centuries old recipes with modern cooking methods. The self taught chef breaks down perceptions of traditional and regional Chinese food, taking his guests to the "X-treme" and hopes to revolutionise Chinese gastronomy in London, creating an entirely new dimension for his diners to explore.
So fans of what AA Gill recently called 'monosyllabic dining' i.e. fried chicken, ribs, burgers etc won't be interested
Apart from the main dining area which will seat 32 guests, the ground floor interior of Bo London will accommodate 10 guests in an entrance bar, which will open with lunch service and serve selected dim sum throughout the day. TAs with the cuisine, this traditional
Bo London will be open for lunch Monday–Friday from 12:00–15:00; for dinner Monday-Saturday from 19:00–23:00.
Dim Sum available Monday to Friday 12:00-23:00; Saturday 19:00-23:00.
For updates and online bookings visit www.bolondonrestaurant.com