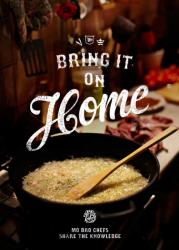 In 2010 Movember challenged Mo Bros around the country to have confidence in the kitchen, take pride in the meals they prepared and to'Cook like a Man'. In 2011 they ventured to the countryside and showed Mo Bros how to hunt, forage and fish for their supper with'Cook From The Land'. This year, Mo Bro chefs share their wisdom and knowledge with'Bring It On Home'- a new cookbook that encourages their fellow Mo Bros & Mo Sistas to celebrate Movember and host a dinner party during the month of Movember.
With a range of established expertise, the book hosts chefs from across the country who share their skills, tips and favourite dinner menus with their fellow moustachioed brethren and inspire them to host their own Mo inspired dinner parties. With delicious recipes the cookbook teaches men'if it's worth doing – it's worth doing right' and to cook amazing meals with dishes that are tailored to help make hosting a dinner party simple – so more time can be spent around the table celebrating Movember and having fun.
Chefs from Oxo Tower, Caravan, the ETM pub group, game experts The Wild Game Co and supper club pioneer Simon'Ferdie' Fernandez are just some of the many Mo Bro chefs who have shared their knowledge with mouth watering recipes in'Bring It On Home'. Make your dinner party memorable with a simple duck breast salad, mussels cooked with chilli jam, a whole poached trout or a coffee bean panna cotta and know that your guests will be blown away with your cooking prowess.
For more information on'Bring It On Home' visit uk.movember.com