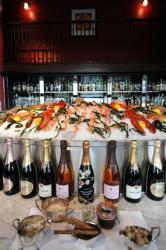 Boisdale and Wright Brothers will host an Oyster Olympics, sponsored by Mumm Champagne, on November 4th at Boisdale of Canary Wharf.
The British Isles' leading oyster producers will be presenting their finest oysters at Boisdale on the day for the judging, which will take the form of a blind-tasting by a panel of 12 industry experts, bon viveurs, restaurateurs and writers including Boisdale head chef Andy Rose, event host Bill Knott and Robin Hancock, MD of Wright Brothers. The Oyster Tasting Championship will take place at 12.30pm. A panel of experts will crown the UK's 'Oysters of the Year' in two categories, natives and rocks. BWOYC 2011 Gold, silver and bronze medals will be awarded in both categories. They will mark the oysters on appearance, quality, meat to shell ratio, taste and flavour.
Among those competing for the title of 'Oyster of the Year' will be natives from Maldon, West Mersea, Duchy, Rossmore and Kelly and rocks from Cumbrae, Carlingford, Jersey, Maldon, Lindisfarne, Kingdom of Mourne, Richard Howard, Dorset, Duchy and Portland.
Members of the public will be able to taste the top three oysters in both categories as they will be stocked from for duration of the Boisdale and Wright Brothers Oyster Festival at all Boisdale restaurants and bars as well as at Wright Brothers in Soho. To ensure that as many as people as possible have the opportunity to taste these spectacular oysters, Boisdale and Wright Brothers will be offering them at half price every day during the festival at 'Crazy Hour' across all their restaurants from 5pm to 6pm, Monday to Friday, and from 5pm to 7pm on Saturdays.
There will be a limit of 84 oysters per customer per 'Crazy Hour' – for the customers' own good.
The Oyster Festival takes place from November 8th to December 1st at Boisale of Belgravia, Boisdale of Bishopsgate, Boisdale of Canary Wharf and Wright Brothers Soho Oyster Bar.