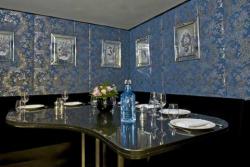 The Savoy Grill, which re-opened in the autumn has launched the exclusive Bombay Sapphire Chef's Table.
Seating up to eight guests, the spectacular centrepiece of the intimate Chef's Table is an exclusive crystal decanter designed by Stephen Webster for Garrard tocelebrate the 250th anniversary ofthe recipe on which Bombay Sapphire is based.
The walls of the Chef's Table are dressed with exquisite Chinese silk in Bombay Sapphire's signature blue, which are in turn adorned with hand-etched mirrors illustrating the 10 botanical ingredients that produce the incomparable taste of Bombay Sapphire.
Situated overlooking the hustle and bustle of The Savoy Grill's kitchen, diners are very much in the thick of the culinary action! On arrival, guests are led through the busy kitchen before being seated and presented with a Bombay Sapphire cocktail, such as the Billionaires Bramble, a classic cocktailfinished with a decadent sprinkling of real gold.
Available for both lunch and dinner reservations, Head Chef Andy Cook has created a selection of mouth-watering tastingmenus taking inspiration from Bombay Sapphire's 10 botanical ingredients. Seasonal dishes include Pressed FoieGras Terrine with Cubeb Berry Seasoning, Quince Jelly & Toasted Brioche, Spiced and Roasted Duck Breast with Smoked Duck Sausage, Red Cabbage and a Juniper Infused Sauce and Cassia Bark Ice Cream, Confit Oranges & Rose Water Sabayon.
Read our interview with Head Chef Andy Cook
Prices start at £85 per person for lunch and£115 per person for dinner.
*Prices include coffee and water. Alcohol is not included in the price. An additional 12.5% service charge will be added to the bill