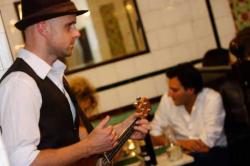 Following the great success of their first restaurant, the Bonnie Gull team are gearing up to open their second site on Exmouth Market on April 22nd.
The Bonnie Gull Seafood Cafe will have a more casual, informal feel than the original and there will also be a big focus on takeaway options this time around. A shellfish table will offer oysters, cockles, smoked mussels and langoustine all served wrapped in newspaper for that classic seaside feel, while sandwiches include a "Cockney Po'Boy" – their take on the New Orleans classic – lobster and crab rolls, and fish finger sandwiches.
Dishes from the main menu include Dorset crab with avocado on beef dripping sourdough toast; 'smash your own' 1 kg cock crab with flame-grilled brown meat; and, of course, the classic beer-battered fish and chips. Continuing the seaside trip down memory lane, desserts will feature homemade Mr Whippy ice cream, Blackpool rock and Cornish fudge. 
Bonnie Gull will be open for lunch and dinner seven days a week, with a weekend brunch menu to be added further down the line.