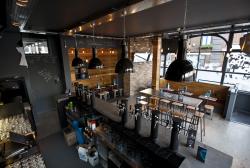 BrewDog Camden, 113 Bayham Street, Camden www.brewdog.com
Picture the scene; a Scottish board room, a group of young men in sharp suits sit around a table scratching their heads and nursing half-drunk pint glasses of booze. Some are mumbling inaudibly. There's a whiteboard in a corner with bottles of beer drawn on in various sizes and colours. And one of the men says to the other: "So we're opening a bar in London, we need to keep this opening subtle, sophisticated." And another pipes up: "How about we drive into Camden in a tank?". "Perfect", his friend replies. From outside the room the sound of clinking glasses can be heard.
Never ones to shy away from a little bit of publicity, brewers Brewdog have rolled into town and, no, I wasn't joking – they rejected London's public transport for a bit of military panache on their opening day. Can't say I blame them.
And they probably couldn't have chosen a better part of London for their 'punk' stylings. In an area renowned for welcoming the…erm…different, they are bound to fit right in. And if the press night I went to is anything to go by, I'll certainly be joining them when I next find myself in their neck of the woods.
Set across two floors, the pub is described as being 'stripped back with an unforgiving edginess that's befitting of the world's most hardcore beers', and I suppose I can run with that. It's certainly grungy in a 'we don't care'-kinda way and it suits the young company. Despite its 'edginess' there are sofas dotted about the place and plenty of bar stools.
They've got all their 'regular' brews on tap (yay!) and their more specialist brews – like their infamous Sink the Bismarck, a mere 41% ABV – join them behind the bar and are available in shot-size servings. That's not to mention the various bottled beers from other craft brewers from across Europe. It's a pretty impressive line up.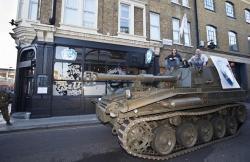 And if you do like a little food with your pint (you're on Foodepedia so you damn well better!), then the pub also serves BBC Masterchef Winner, Tim Anderson-designed pizzas and burgers. We tried a little of each and they were excellent, particularly the burgers. We also spotted some platters too but we didn't get to try them.
It's Brewdog's first 'craft beer bar' to open in England and their fourth in the UK. I imagine it will be a very welcome addition to Camden. With some great American-styled pub grub and a beer to suit (probably) any taste, it should be a destination pub for the discerning ale hound. Brewdog, welcome to London.