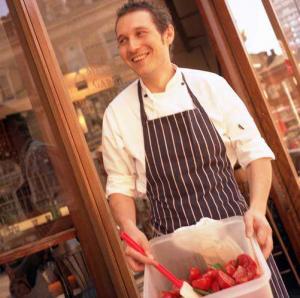 London Tapas restaurants Brindisa launch a programme of unique Spanish Supper Clubs and Master-classes for food lovers
Based on the success and popularity of 2009 master-classes, Brindisa launch a full programme of Spanish Supper Clubs to run throughout 2010. Brindisa Supper Clubs offer customers a one-off dining experience and the opportunity to learn about great Spanish produce. A special menu will be prepared by Chef Partner Jose Pizarro and his team and served with wines to match. Usually the evening will involve a talk or demonstration from one of Brindisa's in-house experts as well as tutored tastings in food and wine. The evenings are themed around seasonal ingredients or products and will take place once a month at Casa Brindisa in South Kensington.
The first in the series kicks off with an evening dedicated to the popular subject of Charcuterie on 1st March 2010. Guests will learn all about the history and traditions of this important Spanish ingredient with tastings of many different styles of charcuterie including Serrano and Iberico, chorizos and salchichones. Further classes throughout the year will focus on other great Spanish ingredients including cheeses, legumbres, anchovies and fish, tomatoes, vegetables and rice. Supper clubs run from 6.30-8.30pm. Prices are £37.50 per head and include wines to match.
Supper Clubs dates April – July 2010:
12th April 2010: Master-class and tastings in Catalan Cheeses.
The Pyrenees mountains are the ideal place for raising livestock and here cows and goats are raised to produce cheeses that are considered a delicacy throughout Spain. Catalunya now has more cheese shops than any other region in Spain. Here customers will learn about, and taste a selection of these world-renowned cheeses, focusing on the different styles produced by one dairy. Introduced by founder of Brindisa, Monika Linton, who has travelled Spain in search of the most interesting dairies. Wines to match.
10th May 2010: Supper Club: Legumbres (dried beans).
A hugely important ingredient in Spanish cuisine, and a store-cupboard staple with fantastic health credentials, Chef Director Jose Pizarro introduces great summer ways in which to cook with dried beans whilst his team prepare a delicious three-course menu. Wines to match each course.
7th June 2010: Spanish Anchovies Master-Class.
The Anchovy is one of the most popular fishes in Spanish cuisine – it's an ingredient with a long tradition in the region of Cantabria. Chef Partner Jose Pizarro and founder of Brindisa, Monika Linton, talk about its long-standing history, sustainability, and the quality of source and production. Includes tastings of salted, marinated, and smoked styles and menu prepared by Brindisa chefs with wines to match.
5th July 2010: Supper Club: La huerta: tomatoes, vegetables and rice dishes.
Using these popular seasonal ingredients this class focuses on outdoor cooking. Chef Partner Jose Pizarro and his team present an exciting array of ways to cook with these ingredients, including different styles of arroz dishes beyond the typical paella, whilst a set-menu featuring these ingredients, is prepared by his team. Wines to match.
Brindisa Supper Clubs and Master-Classes offer customers a unique dining experience as well as the opportunity to learn more about great Spanish ingredients and traditions. An adventurous food importer, the Brindisa brand is synonymous with fine quality Spanish food at good value. Each of the restaurants boast an unrivalled menu of tapas and food plates that include not only the traditional cured Brindisa foods of air-cured ham, famous cheeses and fine fish but also a range of cooked and fresh dishes from the dynamic partnership of Chef Partner Jose Pizarro's creative cooking and Brindisa's fine ingredients.
Brindisa has three tapas restaurants, the flag-ship Tapas Brindisa is located in London's Borough Market, Casa Brindisa at South Kensington and most recently Tirerra Brindisa in Soho's Broadwick Street. The Brindisa shop, offering an extensive range of produce including the best Spanish hams to be found in the UK, an unrivalled selection of Spanish cheeses, fine charcuterie and many other great Spanish ingredients, is located at Borough Market.
Supper Clubs are for up 25 persons and start at 6.30 – 8.30pm
Places cost £37.50 and usually include three courses and or special tastings with a glass of wine to match each course
Bookings can be made online at www.brindisa.com