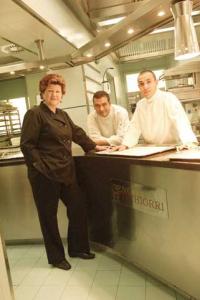 Brunello at the Baglioni Hotel London continues with the second in a yearlong series of outstanding Italian guest chef appearances. From Thursday, 17th June to Saturday, 19th June, chefs from the high-end
Enoteca Pinchiorri in Florence, Italy, are cooking for Londoners With a long standing reputation as one of Italy's best restaurants, the three Michelin starred Enoteca Pinchiorri has wowed diners and critics for over thirty years. Now Annie Féolde, the chef and co- owner, together with Italo Bassi and Roberto Cordisco, Head chef and Sous chef, will present some of their signature dishes at Brunello
Restaurant.
The menu will be paired with some exquisite wines from Bellavista Franciacorta and Borgo San Felice.
Appetizer
Bellavista Franciacorta Cuvée Brut s.a.
Scallops with raw tomato cream, water cress leaves
and hazelnut oil from Piedmont
Bellavista Franciacorta Gran Cuvée Brut 2005
Sea bass breaded in black olives; potato purée
with extra virgin olive oil and shallots
Bellavista Curtefranca Uccellanda 2007
Siamese ravioli filled with slowly braised guinea fowl
and with burrata; parmesan fondue, veal sauce and thyme
Il Grigio Chianti Classico Riserva 2006 San Felice
Roasted pigeon with spices and chestnut honey;
chick pea flour tart and zucchini with fresh mint
Vigorello 2004 San Felice
Mango spiral with yoghurt and lime ice cream
In Pincis Vin Santo 1998 San Felice
Small Pastry and chocolates
Coffee
Five courses £95.00

To make a reservation, please contact:
Brunello at Baglioni Hotel London
60 Hyde Park Gate
London SW7 5BB
Phone: +44 (0) 20 7368 5900
Email:brunellolondon@baglionihotels.com