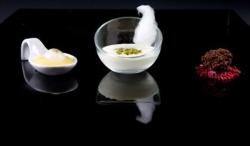 Bubble Food, the South London events caterer, has recently launched its molecular gastronomy menu.
Molecular cuisine has been made increasingly popular by restaurants like the Fat Duck and El Bulli but now you can experience it yourself at private and corporate events through Bubble Food.
Bubble Food's head chef Alejandro Diaz has created a rather extensive menu featuring canapés, bowl foods and a fine dining menu depending on the requirements of the event. Of course, because it's molecular, the food is never what you expect it to be. Take the spherical olives for example, it may look like an olive and it may taste like one too, but it certainly doesn't have the same texture as an olive. And that is the essence of molecular cuisine for Bubble Food – to de-construct the expectations of food and build up an entirely different gastronomic experience.
To find out more, visit their website at www.bubblefood.com