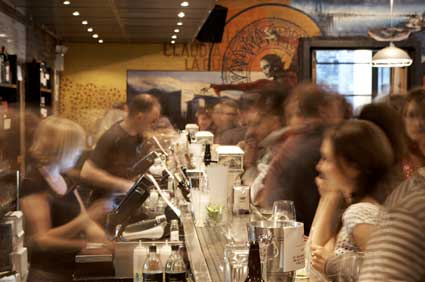 Don't you envy those Italians and Spaniards who, en route to the office, stop for a small powerful coffee and a shot of brandy or similar strong spirit? We of course would be sacked on the spot if we came in with a hint of alcohol about us, although not in this office obviously.
Camino Bar and Restaurant in London's King's Cross just received their 9am license to serve alcohol, so you can now head to Camino for a 'Carajillo' (an espresso and a shot of brandy) in true Spanish style.
And even more tapas to choose from

Camino also launches their new summer menu this week priced from £5 (for the speedy lunch menu in The Bar) to £40 in the restaurant, suiting all palates and requirements. Dishes are also matched with wines from the updated, 100% Spanish wine list.
New dishes include: Empanadillas de Calabaza – a Galician pastry filled with butternut squash and sage with salsa brava; Panceta de Ternera – marinated veal belly, pan-fried and served with chickpea purée (recommended with a glass of Oloroso); Pulpo – a traditional Galician dish of octopus with crushed potatoes, paprika and olive oil and Camino stea – Chuleton y Solomillo (rib-eye or fillet). Those ordering a rib-eye can choose the size of their cut according to hunger level and group size – from 200g to 1 kilo – priced at £5.75 per 100g. Steaks are then simply seasoned and grilled on Camino's vast charcoal-fired grill imported from Bilbao in northern Spain and served whole or sliced – ideal for when sharing as a tapa.
The team has also updated the short, punchy wine list, working closely with niche suppliers and looking at lesser known, up and coming regions such as Montsant which is only a few km west of Priorat. Quality is high, and prices fiercely competitive, with many priced up to £8 less than other popular Spanish restaurants in London. The list starts from £12.95 for a bottle of fresh Navarra house white to a white Rueda priced at £36. The Reds include a modern style Rioja from Beronia – described by the wine maker as a 'chocca-mocha-rioja' and a Torresilo Ribera del Duero priced at £54.
Richard Bigg, owner of Camino says, 'Spain is known for its incredibly innovative wine scene and I believe some of the country's best craftsmanship goes into its wine industry. Our philosophy at Camino is to offer our customers value and flexibility. As a result we have scoured Spain for the best selection of wines and many of them are available either by the bottle, carafe or glass."
Head Chef Nacho del Campo, who hails from the town of Vitoria in the Basque region – widely acknowledged as the gastronomic heartland of Spain – joined the award-winning Camino team in 2008, previously at Bibendum in South Kensington. At Camino food is all about quality and sustainability; line-caught fish from Cornwall and Black Gold beef from Mathers in Aberdeen (also suppliers to Harrods). The Basque region is prime cattle country, and Camino aims to deliver their steaks in exactly the same way here in the UK – simply seasoned, perfectly grilled and thickly sliced.
Camino's Express Menu runs in the restaurant weekdays from noon to 3pm and Monday and Tuesday early evenings before 6.30pm, priced at £10 for one course, £13 for two courses and £15 for three courses. For those who enjoy steak, The Wednesday Club serves a weekly changing cut or prime fish dish Wednesday lunchtime only, which is matched with an excellent glass of Spanish wine and priced at £20 including service.
Camino is open daily from 11am to 1am (Juice Bar open from 8am, Restaurant 12-3pm and 6 till 11.30). Reservations can be made by calling (020) 7841 7330. www.camino.uk.com
Camino, Regent Quarter, 3 Varnishers Yard, London N1 9AF