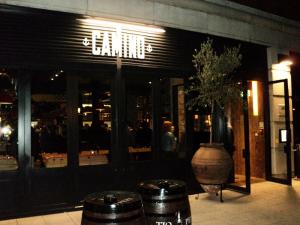 Together with some 30 media colleagues, I arrived at Hays Galleria – by London Bridge – with a view to hitching a ride on the 'sherry ferry' to Canary Wharf pier. This trip had been arranged so that Richard Bigg could introduce us to his latest bar/restaurant, Camino Puerto Del Canario. The 10 minute riverboat journey was the perfect way to travel, a glass of dry sherry in one hand and nibbles of cured meats and cheeses in the other. After we docked at Canary Wharf we walked up the ramp to the dry land of Westferry Circus and were greeted by two of Richard's staff pouring glasses of Cava for us. Bubbly in hand, we then made our way to Camino Puerto Del Canario just 200 yards or so away.
Following our arrival Richard told us a little about his inspiration to open Spanish restaurants, which date back to his interest being piqued when, at the tender age of 19, he was travelling around Spain with his girlfriend. In putting Camino, Puerto Del Canario together, Richard has tried to achieve an authentic Spanish feel and while it's not like any Bodegas that I have been to on the Costas, you could easily imagine you were somewhere in Spain. I could best describe the decor as 'modern rustic', bare brickwork and untreated wood in abundance give a stark contrast to the modern concrete and glass constructions outside. Having opened its doors at the beginning of September with a soft opening the new Camino is now well under way.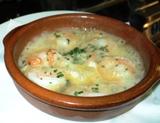 We were invited to look around and while doing so we sampled some of the 36 month cured Iberico ham, which has an amazing depth of flavour and absolutely should feature in anyone's choice of dishes. We also had some tiger prawns sautéed in chilli, garlic and wine, which were excellent. We then sat down to eat and sharing tapas plates arrived, a great way to eat as you get to taste a lot of dishes. First a starter dish of anchovies and pepper, then ham wrapped fig stuffed with cheese which had great textures and flavours brought together. Another of baby squid with alioli, the squid had a little resistance initially then yielded as it should and the alioli was divinely garlicky, all had great vibrant flavours.
The next wave of dishes were octopus tentacle on olive oil mash, black rice with baby squid which works really well, Serrano ham croquettes that were crispy and mildly flavoured by the meat and herb marinated chicken skewers that were tender and very tasty. All great dishes and I would absolutely urge people to try octopus, it has a distinct texture and flavour, I loved it.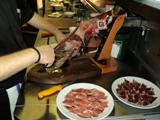 Our next round of dishes were Iberico black pig shoulder, served medium rare, which had excellent flavour and texture. Also Scottish rib eye steak, which was full flavoured and juicy. These were accompanied by dishes of sautéed potato and sautéed peppers, that supported the meats really well. Sadly I had to go before desserts were served, otherwise I would have risked missing the last train, but I saw them arriving and they looked lovely. Our meal was accompanied with some excellent wines, it was a great introduction to the food being served at this new Camino. Camino, Puerto Del Canaria have a very good team of staff, it's not just about really good and tasty food, the service is great too, they work well together, are helpful and take time to explain about dishes and advise the customer.
This was a really enjoyable evening. Camino, Puerto Del Canarion really should be experienced. Try getting there on the ferry, it's very relaxing, though I can't say you'll get served chilled Tio Pepe, cured meats and cheese en route. You will have a great welcome when you get there though.
Camino, Puerto Del Canario, 28 Westferry Circus, London E14 8AA www.camino.uk.com