Fancy donning your finery for a lavish Champagne afternoon tea, a cocktail to mull your cockles, or the full on festive feast on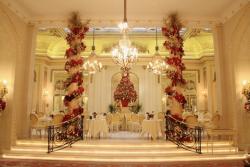 December 25th? Grab your glitz and head for The Ritz. If you like a few tunes with your tea, The Ritz Choir will be serving up carols with your food in The Palm Court. The Rivoli Bar, meanwhile, will be making all its guests very merry indeed.
The Ritz Restaurant comes into its own when you're done soaking up the atmosphere and need something to soak up all those tipples. Terrine of Wild Duck and Woodcock with Truffle and Walnut Vinaigrette; Traditional Roast Norfolk Bronze Turkey with Chestnut Stuffing; or Venison Wellington with Swede Puree and Red Wine Jus should do the job nicely.
Soundtracks for Live at The Ritz, the Christmas Eve Gala and Christmas Luncheon and Dinner will be supplied by musical duo O'Donnell and Bell, and The Ritz reckons that even Santa himself will be enticed along on the big day. And, if you've stayed home and taken far too much turkey, brunch on Boxing Day might well be a pleasing option…
For further information and to book any events, phone The Ritz Restaurant on 020 7493 2512 or email ritzrestaurant@theritzlondon.com