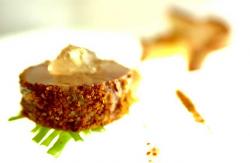 In September this year, Morgan Meunier, one of London's leading French chefs, will be celebrating 10 years of Morgan M with a specially created six-course tasting menu made up of highlights from the past decade. This will be available at Morgan M restaurant for five weeks from 12th September 2013. 
Owned and run by Morgan Meunier, Morgan M opened at its original, Islington, site to critical acclaim in 2003, and has won numerous awards and accolades since, including being named London's Best French Restaurant. The restaurant moved to Long Lane, EC1, in 2011. Morgan says, "The team and I are delighted to be celebrating a decade of Morgan M this September. It has been a roller-coaster ride at times, but we are delighted to have reached this milestone, and I'm looking forward to seeing what the future brings'".
Renowned for his inventive, modern French dishes, the 10th anniversary menu features the delicate flavours created from luxury French ingredients which Morgan has become known for. Dishes were carefully selected from those which had made a particular impression in the media or to the diners over the past decade, such as Morgan M's signature seared fillet "Lieu Jaune" with crayfish tarragon ravioli, celeriac vanilla cream and lobster froth; and 2005's'UK's Best Chocolate Dessert' winner, the chocolate moelleux, served with milk sorbet and Armagnac drink. The menu, in keeping with Morgan's ethos of'affordable haute cuisine' is just £48.
Located right by Smithfield Market, Morgan M is equidistant from Barbican and Farringdon tube stations. The ground floor dining room combines contemporary design with casual elegance to create a sophisticated space decorated with statement artworks, many by Morgan himself.
Morgan M, 50 Long Lane, London EC1A 9EJ
For more information visit www.morganm.com, or for reservations call 020 7609 3560.