Tartufo, 11 Cadogan Gardens, Knightsbridge, London, SW3 2RJ www.tartufolondon.co.uk
This is a place for truffle-lovers. The name is the Italian word for truffles, but you'll already know that if you've mentioned the word to an Italian-speaking friend. They'll probably repeat the word slow-ly, in-a that-a way-a that Italians do-a, then look all confident and invite you to be impressed at their Italian-ness.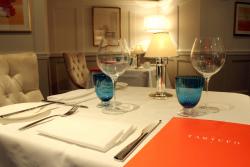 Fair play, they are pretty impressive if they speak Italian and English. I'm not even being sarcastic for once. No, today is a day for a relaxed Friday lunch in a rather distinguished address of 11 Cadogan Gardens, which some may recognise as being a boutique luxury hotel, and they're certainly right. Tartufo is the Italian fine-dining restaurant located in the basement of the hotel.
The West London postcode signifies that this is going to have the fine touches to the décor, with fine being an understatement. It's immaculately laid out, with some pretty unique rooms within the hotel, but the restaurant is our focus for now and it offers a really nice spot just off Sloane Square to have some private dining with a friend or two with the food being higher quality than the local standard.
There's a Summer Truffle Menu at Tartufo that's only a few weeks old. A six courses tasting menu costing £65 with each course having a form of truffle in its recipe and I think you ought to try it. I've had this strange attraction to truffles since being asked to do the'truffle-shuffle' as a kid; incidentally I've never watched The Goonies, but I know what you lot are making me do.
Scallops for first course, grilled Scottish ones at that, served on a bed of trevisana and wild rocket leaves with a crustacean and truffle dressing. Scallops never seem to be able to avoid me, I do my best to vary what I eat but some friends will not shift from ordering scallops and inevitably getting me to try them. I've either missed them or these are particularly brilliant; I'm inclined to think of the latter. Crustacean and truffle dressing poured over delicately soft scallops – now that's a winner.
The next course of Summer Truffle Tortellini is by far my favourite of the menu. We're advised to eat each tortellini in one mouthful so as not to burst it and lose the optimum taste sensation. The Neanderthal in me had already decided to adopt that approach having beaten the Posh-boy side of my brain into submission. No careful cutlery carving on this one, in it went, bang. Instant explosions of fresh walnut and mascarpone flush around the mouth, with the truffle taste being complemented but not masked.
We're getting up to mains now with wild sea trout served with green pea puree & braised white chicory and a truffle infused fish jus reduction. I could have eaten two or three servings of this course. Moist trout, flaking nicely, with a real fresh white chicory is a good match. It's a clean and fresh mouthful, not lingering too heavily on the taste buds or stomach. The jus reduction had the right amount of salt to keep the dish interesting.
Roasted Guinea Fowl Breast served with young carrots and tender peas, with truffle shavings and jus de roti. Now for those who think restaurant critics are sometimes too nicey nicey, I did find something to grumble about on this course. There was a little pocket of spinach that the young carrots were laid upon. Unfortunately the spinach was very salty, way too salty for my taste. I ate it, obviously, but each bite I tried to tell myself that the salty flavour was intended and worked with the other components but it didn't. That being said, the grouse was succulent and tasty, the carrots were fresh and sweet and the jus was spot on. So perhaps just order this course without the spinach and you'll be fine?
The last two courses were Italian cheeses first and then a dessert course of peach feuilleté – amalfi lemon cream with confit peaches and peach sorbet. There's truffles in each course but cleverly hidden so either ask the house or try and find them yourself, that's a fun little game. I will never order a fruit-based dessert, it's just not my style, but I like it when a set menu forces me to partake. The cheeses were great, especially when combined with the little pot of honey on the plate, but the peach course was fantastic. It may have altered my dessert-choosing for the future.
Tartufo is a nice little restaurant. Ok, the post-code is going to make you analyse the food more closely to decipher whether it's value for money. However, that's not rally the attraction of Tartufo. If you want the glitz and glamour then dine on Sloane Square, have a glass of vino at the Botanist and call each other darling. Tartufo is more relaxed, just off the beaten track, with skilled cooking and nice flavours. On the whole, it was a really great interlude to my Friday festivities. Try the truffle tortellini and let the house choose the wines.