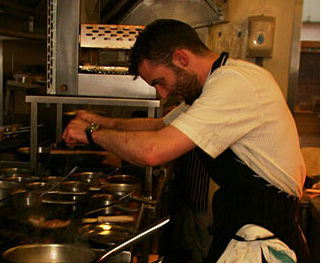 If you google the name of the Head Chef at Papillon, you'll see it listed in many languages you might not be able to read: Chinese, German, Vietnamese, and French to name a few. David Duverger isn't just the talk of the London, he seems to have gotten the attention of much of the world. It isn't everyday that a well-known chef decides to eBay himself off for Christmas to raise money for a charity.
Duverger lost his three-year-old nephew to leukaemia several years ago, and hopes to raise a lot of money for an organization helping families affected by the disease. Duverger has set up an eBay auction and will prepare a traditional French Christmas dinner for the highest bidder. All funds raised will go to the charity "Children with Leukaemia". The minimum bid for Duverger's four-course lunch will be £800
Papillon's Head Chef decided to spend the day cooking for strangers after he realized his tight work schedule wouldn't allow him time to fly home to France and be with his family during the holidays. He decided to put his cooking skills to good use instead. The highest eBay bidder will find Duverger on their doorstep on Christmas Day morning to prepare lunch for a maximum of eight people. If the householder lives more than one hundred miles from central London, David is asking that a hotel room is provided for the night before.
Although Duverger will let the host make final decisions about the meal, he recommends a menu that includes Champagne and Canapes, Foie Grad Terrine and mulled pear chutney braised turbot with champagne sauce. The main course consists of truffle-stuffed Bresse chicken with winter vegetables followed by a celebratory Buche de Noel.
The auction is now live on eBay and will run until Wednesday 10 December – you can find it by clicking here