'Tis the season for hampers. When you can't think of a gift that will hit the spot then a hamper is happiness in a wicker basket.
Hampers have the advantage too of being easily ordered on line and delivered almost anywhere. So for far-flung relations, hampers really are a gift.
They make good 'thank yous' for clients too, making sure they remember your name and service as they munch on the mince pies.
Of course the one drawback is that you can be ordering on trust, you're told what's going to be in the box and it sounds ok, but what if your're offering turns out to be a cheesy rip off? You don't want that in the season of goodwill do you?
So we have stuck our noses into a few, tasted the teas, had a crack at the chutneys and supped some of the sauces. First up:
Dickinson & Morris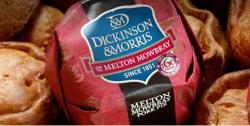 Melton Mowbray, even the name sounds like Mmmmm! If you're a fan of their most famous export the ineffably fantastic, wonderfully British, totally irresistible Pork Pie then one of Dickinson & Morris Hampers is for you.
There are six hampers to choose from ranging in price from £35 to £180. All use local products and obviously each contains at least one pork pie. We tried A Flavour of Melton, a hamper (insulated box actually as the contents are of course perishable)  containing a large Pork Pie (454g)- Great Taste Gold Winner 2010- , Wedge Blue Stilton Cheese (454g), Melton Hunt Cake (907g), Apple Chutney (270g), Melton Smokey Sausage (454g), Bottle Melton Red Beer (500ml), Dickinson & Morris Jute Bag.
Phew. Well the pie didn't last long as it was a whopper and delicious with it. No preservatives, flavour enhancers or hydrogenated fats, the latter important to me as pie pastry can make me feel very ill. The pies are traditionally baked without using a supporting tin or hoop, which gives the classic bow-sided shape of an authentic Melton Mowbray Pork Pie (Great Taste Gold Winner 2010). Natural bone stock jelly is added to the pies after baking to enhance the natural pork flavour. We dobbed on some Apple Chutney, made in Nottingham, as we ate. Only one of us got the beer, it was rather good.
The Hunt Cake went down well at teatime; it's a rich, moist fruit cake first created by Joseph Morris in 1854 for members of the local hunt. Again no preservatives, lots of fruit, nuts and Caribbean rum. Gorgeous. The Melton Smokey Sausages we ate for tea,as a Toad in the Hole very porky, no filler and with a pleasant hint of smokiness.
Their website is a lip-smacking digital feast of food with lots of choice. Hampers are nicely packed and chilled to survive delivery. A great British product.
Christmas and New Year:
Last date to place orders for Christmas delivery is Tuesday, 16/12/2014
Last delivery date before Christmas is Tuesday, 23/12/2014
First delivery date in the New Year is Thursday, 08/01/2015
Foxcroft & Ginger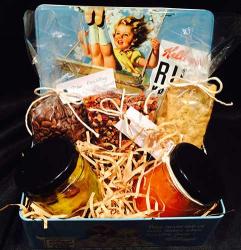 Stuck on what to get the hipster in your life for Christmas? Cool London cafe-cum-bakery Foxcroft & Ginger may have just the answer.
Based in hipster hotspots Whitechapel and Soho, Foxcroft & Ginger have created a Christmas hamper filled with artisan goods and organic treats to suit even the biggest food snob.
Priced at £25, the hamper will include coffee beans from cult London roastery The Roasting Party, and Organic Winter Spiced Tea from fine tea purveyors Chash Tea.
A jar of F&G's house-made Plum Jam and Winter Spiced Chutney will be included, as well as homemade Seeded Biscuits – the perfect accompaniment for a Christmas cheese board. All of these goodies will come beautifully presented in a very cool retro tin, of course.
The hampers are available to purchase from either F&G branch or by emailing info@foxcroftandginger.co.uk .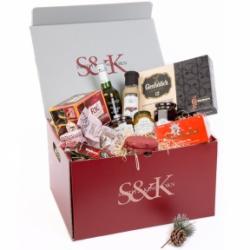 Smith  & Klinghorn
Smith & Kinghorn hampers are new to the market and are offering an Introductory Offer of buy one hamper get one free. which sounds a deal if ever there was one. There are two on offer,The Festive Hamper and TheYuletide Hamper and we got to unwrap the former
·        Fox's Christmas Pudding (454g)
·         Thorntons Truffles (115g)
·         Mercer Apple Sage & Cider Jelly (140g)
·         Rose Farm Harvest Chutney (117g)
·         Walkers Shortbread Fingers wrapped (160g)
·         Mrs Darlington's Cranberry Sauce with Port (200g)
·         Brewhoho – Christmas Tea 25's (50g)
·         Thorncroft Cordial (330ml)
·         Epicure Pate (180g)
·         Cottage Delight Strawberry Extra Jam (227g)
·         Atkins & Potts Brandy Sauce (240g)
·         Walkers Glenfiddich Mincemeat Tarts x 6 (372g)
 The mince pies we ate at once, and loved them with a pot of the Xmas tea. Plenty of whisky flavour but not boozy, you could eat a whole pack and not necessarily find yourself down the police station later. The shortbread fingers were buttery with just the right amount of crumble and the pate was used to make the interns' sandwiches for which they were very grateful as they hadn't eaten for a week. Just kidding.
Both hampers cost £49.99 each and come with personalised messages, so you can send it with your own bespoke Christmas greeting.  Smith &Kinghorn will even deliver the free hamper to any address in the UK (excl Highlands and Islands) completely freeof charge. 
Only available for delivery between 24th November and 18th December.
However you are still able to order now and choose your delivery day within this specified period. Limited availability so please order early from their website Smith  & Klinghorn to avoid disappointment.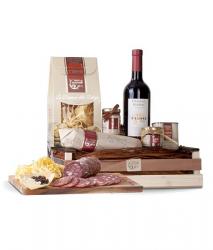 Valentina Fine Foods
Italian food connoisseurs will be intyerested in the Valentina extensive selection of pre-made Christmas hampers. With over eight hampers to choose from, priced from £34.95 for the Lazio hamper, Valentina's most traditional hamper consisting of a selection of Italian Christmas specialities including Vergani Torrone with Almonds, Prato Belli Amarettini Biscuits, Feletti Chocolate Pralines with Cream, Feletti Chocolate Bar, Feletti Apricot Biscuits, a Classic Panettone and a lightly sparkling wine from Toso.
The Italia hamper, priced at £114.95, includes – Classic Panettone (750g), Baratti & Milano gianduja chocolate with cream and coffee (150g), Baratti & Milano truffles (white and sweet varieties 200g each), Baratti & Milano Soft fruit candies (200g), Baratti and Milano hazelnut torrone bar (240g), Virginia soft Amaretti biscuits (200g), Virginia Baci Di Dama biscuits (200g), Biscottificio Belli Cantuccini biscuits (150g), Biscottificio Belli chocolate Cantuccini biscuits (150g) and a bottle of Bucciarelli Vin Santo wine.
Valentina Fine Foods also offers a build a hamper service in all its stores, allowing customers to select their own Italian produce to make their personalised hamper gift with the choice of three hamper sizes: 12 inches (£9.95), 14 inches (£12.95) and 18 inches (£19.95). Alternatively hampers can be ordered online before 18th December for Christmas delivery.
Valentina Fine Foods pre-made Christmas hamper selection can be found here: 
The De Beauvoir Deli Co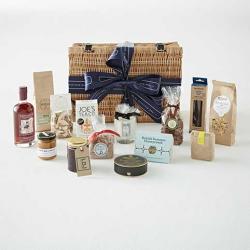 London cornucopia The De Beauvoir Deli Co. has created a range of hampers this Christmas that celebrates the huge variety of top quality suppliers they source their produce from.
Highlights from the range include:
The Hackney Hamper showcases the best of the borough's artisan producers. Presented in a 14-inch hamper, it includes the likes of Five Points Brewery, London Borough of Jam, Roasting Shed coffee and Fatties Caramels (£70).
The London Hamper celebrates the Capital's top food and drink producers. Enjoy Sipsmith Gin, Rococo drinking chocolate, honeycomb from the London Honey Co and Zaramama's popping corn among other delicious items (£120 for 18-inch hamper).
If you're on a budget or looking for something small, pick up The De Beauvoir Deli Basket – a 12-inch hamper featuring beer, jam, chutney, relish, oatcakes and chocolates for just £30. 
The De Beauvoir Kingsize Hamper is the ultimate Christmas indulgence. A 20-inch hamper featuring 24 different products it covers all of your festive food needs – champagne? Check. Christmas pudding? Check. Panettone? Check. Mulled wine spices? Check. Plus sloe gin, biscuits, hot chocolate, fruitcake, candy canes, jam, tea, nuts, crackers and more, all for £200. A version featuring additional chilled products (salmon, stilton, foie gras and waxed cheddar) is also available for £250.
Available in store and online www.thedebeauvoirdeli.co.uk
Selfridges hampers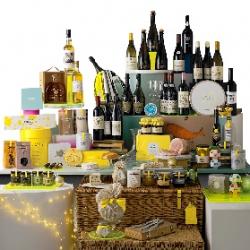 This Christmas Selfridges hampers have something for everyone, whatever the budget with of the Selfridges hampers designed to suit different styles and tastes.
Starting from £65.00 with the Festive Tea Time hamper containing Earl Grey and Afternoon Tea, Scottish shortbread, sticky Christmas fruit cake and fruity jams made by some of Britain's finest artisans.
This year for first time Selfridges is offering a delicatessen hamper with smoked salmon, juicy ham as well as fine wines and a range of cheeses.
The 'Ultimate Selfridges Foodhall Hamper'is a showstopper with a massive selection of artisan food and drink, kitchen accessories and more. We could only gaze in wonder as we didn't get one to try. Probably because it costs £5000