Titchwell, Brancaster, Norfolk, PE31 8BB
Having arrived back from Scotland, it's an about turn for Nik Speller as he heads out to the wilds of North Norfolk to explore the cosy retreat of Titchwell Manor.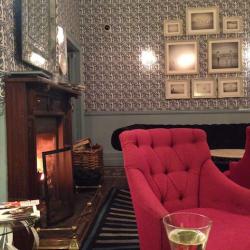 There's no getting away from it, the world outside of London is different. In the deepest, darkest depths of the countryside, public transport is non-existent and the car is king. There's no after work drink and a last tube home, no lazy trips to the chip shop on the corner and wine from the off license, no Saturday journeys across four boroughs to sample the latest restaurant opening. Instead, get home, turn on the TV, crank the oven up and uncork a bottle or three. No wonder supermarkets do such a roaring trade in alcohol.
I make it sound bleak, I make it sound boring, I make it sound damn right depressing. This isolation has its charm though, just as the density of London has its stresses. A close knit community, a quiet evening by a roaring fire and stunning views of the sea on a cold wintery walk – all things not commonly found in the metropolis and things you start to pine for, if you're not born and bred in the city.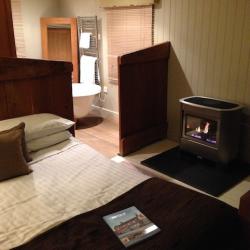 On a classically grey Friday afternoon, attempting to out-run rush hour, and having already sped through the commuter belt, we swapped a train for a four-by-four to get right into that'countryside' mood. Out here, a car like this is a passport; seven feet of metal and glass, as aerodynamic as a bank vault, that screams "I AM from round 'ere" at every small hedgerow, animal and child that it sweeps from its path. It wasn't mine – Foodepedia don't pay nearly enough – but with a green jumper and check shirt, all I needed to complete the 'look' was a length of corn to chew.
"I can see the sea!"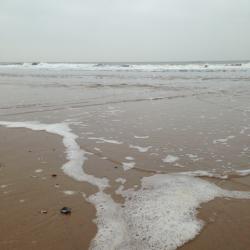 We were staying at Titchwell Manor, a beautiful hotel and restaurant on the North Norfolk coast. Three hours from London and three miles from the sea, this is much more a grand farmhouse than a Downton style manor, with a bar and restaurant in the main house and rooms spread throughout a collection of refurbished outbuildings in the yard and garden.
Arriving in the dark, the lack of light on a winter's afternoon in the country tricks the mind into believing it's well past midnight. It was tempting not to leave our snug home for the night – a Swedish style log cabin with roll top bath – and instead, curl up next to the remote control log burner and sleep.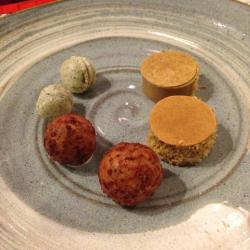 The First Bites
The glowing lights of a bar generally have a strong pull on me and I managed to lift myself from the bed to indulge in some bar snacks of crisp pig skin, salami, and hare roll – it's a tough life sometimes. The hare was delicious, crisp and gamey. The pig skin was crying out for an accompanying pot of stewed apple. The beer was Greene King's finest – disappointing, as in a county with such a rich array of brewers, I expected something more exciting.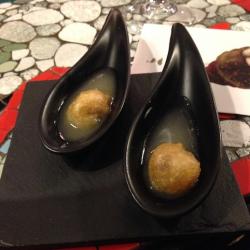 The pre-dinner didn't finish at the bar. Holding flutes of champagne, we sat in the stylish lounge to read the local paper and nibble on a selection of canapés. A small deep fried oyster slipped down, followed by a spiral of parsnip panna cotta, cheese donut, and seaweed macaron. No doubt the best canapés I will have this Christmas, the panna cotta was rich and earthy, while the macaron salty and sharp. *Bleeps* all over the M&S prawn toast and filo pastry bites.
The Nine Course Marathon
I'm becoming quite a seasoned pro at this amateur gluttony. When a menu as long as till receipt is handed to you, as you've just finished bar snacks and canapés, it's time to take a deep breath, loosen the belt a notch, and prepare yourself for the heinous crime of 'wasting some food'.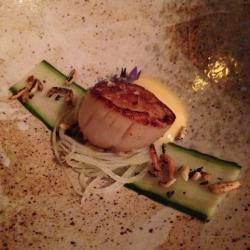 The latter was tough. The eight courses listed – and they managed to sneak in a ninth – started with dishes that couldn't just be poked at. My personalised scallop dish (minus the mussels, just for me), all gone. The artichoke and quails egg, cleaned from the plate.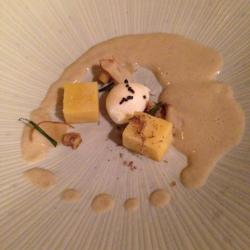 Fortunately (or perhaps not), as we worked down the menu, there were a few breathing points. The hake was fresh and perfectly cooked, but garnished with too much salt and the fermented mushrooms were an unwelcome slap on the tongue. The dishes of Norfolk dapple and Thornham apple, that began a four course desert marathon, were completely inoffensive, but delivered nothing particularly memorable either.
Then, the menu moved into its weakest rounds. A surprise 9th course arrived, slipped in between 7th and 8th, that I think we were guinea pigs for. A lattice of spun chocolate, encased a ball of minty, chewy, sponge. It looked strange and tasted stranger still. One to work hard on in the lab or, perhaps, go right back to the drawing board.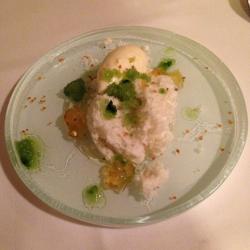 The final course of ewe's milk and honey, I couldn't like no matter how hard I tried. The ewe's milk seemed to be split between a delicate spoon of sorbet and a lump of (yet more) spongey substance, with a slight texture of bread, and a taste I can't describe. Another odd dish that should have remained in development.
In Summary
If one was to draw the menu on a graph, and at the same time confirm my credentials as a geek, it would peak early on and slowly trickle down once the dinner hit the puddings. There was real taste, flavour and talent in the earlier dishes. The hogget, for example, was a winner – a tender chunk of meat balanced on a bed of firm, yet soft, vegetables.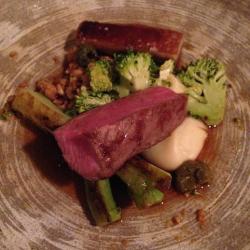 It strikes me, then, that the kitchen at Titchwell Manor is well-versed in the delicate art of a savoury dish, but novice where dessert is concerned. Either that, or they've become so bored with apple crumble and it's ilk, that they're rebelling by pushing their boat far into the deeps waters of experimental cooking. Perhaps that's to be applauded, perhaps they will stumble across the perfect sweet dish, but for now, a slightly more conservative approach for the final few courses would pay dividends.
Full of food and full of wine – the choice of which was excellent for every course – we stumbled out into the cold to find our log cabin, throwing coffee on the floor as we went.
And Back Home Again
A night sleeping soundly by the glowing embers of the low fire, the sound of silence ringing in my ears, we woke for a late breakfast of rural Kings. Every meat a full English deserves and every flaky pastry the continent has to offer. Excellent fuel, much needed for a brisk walk across the cold sands, out through the windswept flats of the Norfolk dunes.
The Land Rover, stretched its legs later along country lanes, hitting deep puddles, sharp twigs and careless bird watchers. We took in some crab at Cromer and reenacted Alan Partridge on the pier, before heading towards the bright light of a setting sun and the infernal, never-ending noise of London beyond.
With Norfolk being so quiet, so picturesque and so close to London, you wonder why so many people drive all that way West on each and every bank holiday.
Like travel? Like Christmas? You'll love…