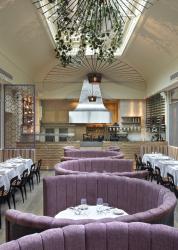 Sat at the bottom end of Chancery Lane, the Strand end that is, Cigalon is firmly placed in the middle of Lawyerland. It's not unusual in the area to see people walking along with a purpose in groups of threes with the obvious minion carrying shed loads of legal books, and documents or wheeling a trolley stacked with them. Inevitably because of its position, they're most busy at weekday lunchtimes, although still getting a healthy trade in the evenings. But, as well as being in the middle of London's legal jungle, this end of Chancery lane is also on the edge of Theatreland – just a ten minute walk to the other side of the Aldwych 'D', there's a clutch of some of London's principal theatres.
The restaurant has a fresh airy feel to it, helped by its glass roof, the reed type wall covering and the potted olive trees, it's a welcoming space. Recognising their close proximity to the London Luvvie culture Cigalon have developed two new menus, the first a set menu at a cost of £30 for 3 courses including a glass of Champagne, which at present will be available to the end of August; the second, a pre-theatre menu which is available to diners sitting down between 5.30 and 6.45 with two courses for £17 and three for £20.50 – and I doubt you have to show your tickets to qualify for it! Cigalon aim to keep their menu offerings seasonal and to ensure the flavours in their dishes are vibrant and I went there recently with other food writers to sample some of the dishes they have on offer across their menus. As we sat, the staff there brought interesting breads and some very good black olive tapenade, which had big flavour but unlike many similar dishes was not at all overly salty, we absolutely did it justice!
I had chosen the queen scallops served with a bisque, from the set menu, as my starter and they were excellent, perfectly cooked little sweet nuggets in individual shells where they each sat in a little pool of the bisque. A small bowl of the full flavoured bisque was also served on the side, it was very good indeed, I had to use the bread to mop up the bisque that I was unable to pick up with a spoon, I liked it that much! For mains I had the roast rack of lamb with citrus, served medium rare as recommended by the chef – and as I would have ordered it anyway. The little rack chops were tender and had good flavour, delicately enhanced by some slight citrus tang. The lamb came with a 'poichichiade' a mix of veg and chick pea that supported the meat very well. The table then shared three desserts from the menu; I chose the thyme shortbread with strawberries and pistachio and rose sorbet which was the outright winner in my view, the mix of flavours and textures just made it a perfect end to the meal. The iced nougat (a bit like a semifreddo) with soft berries was also good as was the chestnut and passion fruit baba with garlaban (a spirit) which had a nice alcohol kick to it.
The menus at Cigalon are varied and interesting, the cuisine is principally French and what I tasted was very good indeed. You can find out more about what's on offer at Cigalon by checking out their site. You can also read our review of the restaurant by following the embedded link.
Cigalon, 115 Chancery Lane, London WC2A 1PP