Vivek Singh of The Cinnamon Club and Cinnamon Kitchen will open a third restaurant in Soho next spring.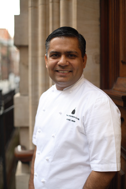 Located on Kingly Street, with an additional entrance on Kingly Court, the new venue will be inspired by the same philosophy of the City-based original Cinnamon Kitchen. The new site will offer modern contemporary Indian cuisine using quality ingredients, but at a lower spend per head to reflect its more relaxed and informal surroundings.
The 2,500 sq ft site, formerly the Red Bar, has a 1am alcohol licence. With 75 covers over two floors, there will be an a la carte menu at lunch and dinner, a strong pre and post theatre offer as well as a late night supper menu of tasting plates plus an all day breakfast menu. A set lunch menu will also be available at £15 for 2 courses and £18 for 3 courses.
Vivek Singh, chief executive of The Cinnamon Club and Cinnamon Kitchen comments: 'We are delighted to have secured a West End site and are very excited about opening a restaurant with the same ethos of innovation and creativity that drives our other restaurants but in a more accessible and affordable format."