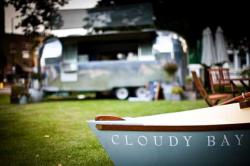 Cloudy Bay is bringing back the popular Cloudy Bay Shack – a pop-up airstream that offers hungry passers by the chance to experience some of the best Cloudy Bay wines matched with bespoke food dishes. Londoners and visitors alike can spend the end of the week enjoying glasses of wine, such as the new vintage of Cloudy Bay Chardonnay 2010, in the designated grassed picnic area located opposite Waitrose Canary Wharf in Canada Square Park.
Teaming up with Waitrose, Cloudy Bay has created a New Zealand inspired menu by chef Dane Allchorne, who has over twenty years experience in the culinary industry. Each dish is matched with the different Cloudy Bay wines, so feel free to mix and match or even try each one! Recipe cards will also be available so that these wonderful dishes can be recreated at home so you don't have to wait until 2013 for the next Cloudy Bay Shack!  
The Cloudy Bay Shack will open at Canary Wharf on the 19th of September and run through to the 21st September from 12pm – 6pm. Dishes are between £5-7 including a glass of wine.