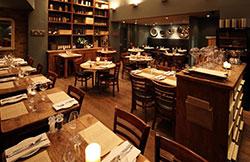 Restaurant and wine workshop 28-50 are giving guests the chance to celebrate the wines of Burgundy with a three-course dinner, paired with five classic Burgundy wines by master sommelier Gearoid Devaney, from Burgundy specialists Flint Wines.
The date is 7th February; the venue is the Fetter Lane branch in the City. Gearoid will guide guests through each wine, explaining his rationale for matching it with its accompanying dish, as well as answering any questions.
28-50 is the sister restaurant of the Michelin-starred Texture, also owned by sommelier Xavier Rousset and top Icelandinc chef Agnar Sverrisson. We recently reviewed Texture, and if our experience of it was anything to go by, dining at 28-50 should be a cracking experience.
Tickets cost £69 per person and can be purchased by emailing rita@2850.co.uk.
140 Fetter Lane, London EC4A 1BT