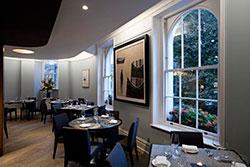 Sunday lunch. A British institution as close to our hearts as Buckingham Palace, Sir Ian Mckellen and keeping people at arm's length. And older too (the roast as we know it can be traced back to medieval times when village serfs were treated to a roasted ox once a week after church).
Whilst we might all cheat on tradition from time to time, with a cheeky biryani buffet or a hot disk of dough and cheese delivered to our door, for most Brits slicing into a hunk of roasted meat on any given Sunday is, well, a given.
The Guildford Arms in the royal borough of Greenwich celebrated its fourth birthday in November and we're betting that a huge part of that success lies beneath the crisp skin of its roast chicken. Though its pretty sunken garden (regularly voted as one of the best in London), elegant interior (grown up sage downstairs and demure grey in the upstairs dining room) and menu of prettily worked up gastro dishes from Head Chef Guy Awford obviously helps.
Regardless of reason, when we arrive on a grizzly Sunday lunchtime the pub is stuffed with well-groomed Greenwich residents grazing convivially in the warm downstairs space. We're shown to the upstairs dining room, which is, though pleasant enough, sterile in comparison. Though in The Guildford Arms's defense, it's a problem we've encountered in many an excellent boozer, where they stick a'fancy' part upstairs for the proper food, which turns out to be half as fun and twice as expensive as the pub downstairs.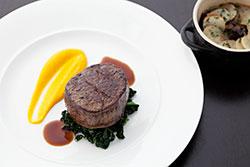 That being said, it's entirely understandable. Getting in a chef that's knocking out first-rate food means it's tempting to present it in a restaurant context complete with the décor and the service. And The Guildford Arms is sending out some of the best, if not the best, food in the area.
If the local hype surrounding nearby sister restaurant Inside is anything to go by, this is everything to do with Guy Awford's cooking. Like the best chef's focusing on a mostly British menu, Awford prides himself on his dedication to local produce (and by local we mean the fishmongers round the corner, meat from down the road and artisan cheese from Greenwich's center).
He also has imagination and skill – immediately evident in an artful starter of pickled and roast beetroot scattered around a pale mound of goat curd and thyme set into an ethereal pana cotta. Even the duck and orange pate, served in a closed kilner jar sealed with a pleasing butter'wax' is a step above your usual pub offering.
The venison pie is delicious. With a proud crust that snaps, crackles and pops to reveal a mélange of soft meat, sweet carrot and fat rippled stock under its puffy hood. But the roast chicken, burnished gold but plump within, is truly outstanding. Made even better by a handful of textbook spuds, bright winter veg with proper crunch and a gravy so good they should serve it as a soup course.
By the time we finish with a glutinous hazelnut brownie and a weightless slab of hazelnut tart, both served with incredible homemade ice cream (the former a toasty malt and the latter a citrusy orange buttermilk), we're totally sold.
Regardless of a few interior gripes, The Guildford Arms is doing everything right in the kitchen, particularly their Sunday roasts. Though saying that, taking a look at their current weekday menu which includes roast quail, wild halibut and braised pheasant, we'd happily go any day of the week.