After the success of the initial cookery demonstrations at The Dysart Petersham, the restaurant has announced the details of its next culinary adventure – on Tuesday 31 March, when its award-winning chef, Kenneth Culhane, will be preparing Monkfish Bourride.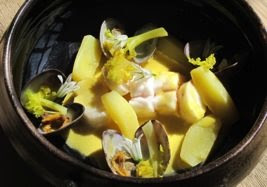 "This is a delicious fish stew from Séte in the South of France. Years ago I would always stop there en route to Montpellier in order to eat this. It is wonderful with some crusty, garlicky French bread." He says.
Attendees will not only enjoy this Bourride for their supper afterwards, but they will have a dessert of Asparagus and Strawberry tart, another of Kenneth's acclaimed signature dishes.
The evening is highly civilised: guests are served a glass of wine and canapés during the demonstration, and the intimate, relaxed atmosphere allows them to chat and ask questions with Kenneth and owner manager Barny Taylor, who will be talking about wine and beer matching (a skill for which Barny is held in high regard).
They will also be presenting the best ingredients of the month, showing preparation and presentation techniques for them, offering raw tastings of some produce and discussing balance of flavours. Copies of the recipes will be provided.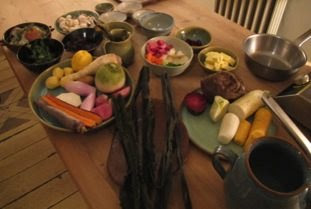 And last, but by no means least, guests then enjoy an informal supper of these dishes, accompanied by the recommended wine, followed by coffee and petits fours. All of the above is available for just £48 per person. Numbers are restricted to a maximum of ten guests per evening.
"We can provide vouchers for our cookery demonstrations," says Barny Taylor, "and they make fabulous Mother's Day, birthday or Easter gifts. We also have some corporate clients who are planning to organise one of these as a team-building event."
For further information and to book, please visit the website thedysartpetersham.co.uk.
Read our review of the food at the Dysart.