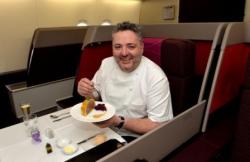 Malaysia Airlines has partnered with Chef Richard Corrigan, one of the UK and Ireland's most esteemed chefs and restaurateurs, to create a limited edition in-flight menu launching this month.
Drawing inspiration from his two flagship London restaurants, Corrigan's Mayfair and Bentley's Oyster Bar and Grill, Richard Corrigan's signature menu will be available to First and Business Class passengers flying on Malaysia Airlines' double daily A380 service from London Heathrow to Kuala Lumpur International Airport.
Working closely with Malaysia Airlines' Head Chef Zahiddin Dris and LSG Sky Chefs, Richard has developed a selection of eight signature dishes comprising appetisers, main courses and dessert, which will be rolled out over a one-year period.
Appetisers will include a version of Richard's acclaimed creamy Lobster Bisque garnished with Crème Fraiche and Lobster – a favourite on the menu at Bentley's Oyster Bar and Grill, and a Lobster, Mango and Avocado Salad, marinated in fresh lime and chilli.
Bentley's style main courses will be a Smoked Fish Platter, combining smoked mackerel in a beetroot and apple relish, smoked eel in a celeriac remoulade and smoked haddock scotch egg with a smoked salmon cucumber pickle; a Salmon Vietnamese and a Mackerel Satay served with a cucumber and papaya salad and cardamom rice pilaf.
Meat dishes will include a Ballotine of chicken poached in coconut milk, lentils and caramelised baby carrots; Lamb Loin with mixed summer salad and individual Beef Wellingtons with mushroom duxelle and herb pancake. Richard has additionally created a dessert fusing traditional British and Asian influences, a Spice Cake served with lemon curd, medjool dates, pomegranate and clementine.
The dishes will live alongside the traditional Malaysian menu and be rolled out on a seasonal changing basis, with the Lobster Salad available to passengers from this month.
Richard's extraordinary career, spanning his work as a first class Chef, broadcaster, author and journalist, has seen him acquire a number of accolades over the years. He has attained a Michelin star, his restaurants have won countless awards, he has cooked for the Queen and is recognised as a pioneer of the slow food movement and champion of using seasonal, local produce in the UK.
Chef Proprietor of Corrigan's in London's Mayfair since 2008, Richard's multi award-winning fine dining restaurant has twice been named London Restaurant of the Year, serving up specialties of wild game, meats and pies in a daily changing seasonal menu. In 2005 Chef Richard took over the iconic Bentley's Oyster Bar and Grill in London's Piccadilly, now renowned for its wild sourced British and Irish oysters shucked and served at the original art deco Oyster Bar and seasonal fish, scallops and shellfish served in the Grill and al-fresco Terrace.  London diners can also enjoy his dishes at the Bentley's Sea Grill in Harrods Food Hall.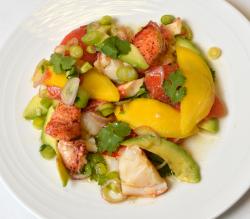 Malaysia Airlines' Regional Senior Vice President UK & Europe Huib Gorter said, "It has been an honour for the Malaysia Airlines' team to work so closely with Chef Richard to create this wonderful menu. His passion for creating quality, flavoursome authentic dishes for our discerning passengers has been infectious and we look forward to an exciting partnership ahead."
Chef Richard Corrigan added, "I'm delighted to be able to unveil my exclusive new menu for Malaysia Airlines. It's been an exciting process seeing my dishes making the transition from ideas to being served in the sky by the Malaysia Airlines' crew. The airline certainly shares my values of quality, hospitality and five-star service and I hope passengers enjoy our Corrigan's and Bentleys creations."
The dishes will complement the traditional Malaysian menu served on board, including the signature Satay, which has been awarded the prestigious'Best Signature Dish' award from SKYTRAX for the past two years, and the Chef on Call service, which provides premium passengers with the chance to pre-book a huge selection of restaurant quality meals 24 hours in advance of travel.
The partnership is part of a global Malaysia Airlines' culinary campaign, which will see the five-star airline team up with influential Chefs in key markets to create unique signature in-flight menus.