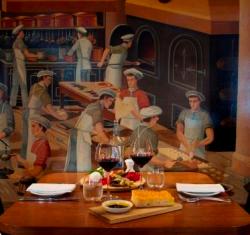 If the long cold nights drive you to warming drinks and entertaining ideas of re-enacting the Last Christmas video, then Cortina at Cantina, which is running until 17th November, may just be the place to sit by a figurative fire and try some wintery Italian cuisine.
Cortina at Cantina aims to bring the famous Italian Ski resort to London, and the restaurant itself is rather inviting on a cold night, all wooden floors and soft lighting. In an area heavily populated by restaurants, the Cantina remains a popular destination, enjoying a location on the banks of the Thames and with a lovely view of Tower Bridge.
To start, I nibbled some regional charcuterie, all the while enjoying a Mojito Caldo. Served in a tea cup, I more or less inhaled all the flavour before I could even taste it, but under the heaters and a rather cosy blanket I found I didn't mind too much. Next up, a selection of vegetables were brought over, to be dipped in a vat of bubbling hot anchovy and garlic sauce, which was rather enjoyable and surprisingly filling.
I then sampled the warm crostini slavered in chicken liver pâté before going on to enjoy my favourite dish of the evening, a huge pot of mussels soaking in garlic, olive oil and parsley. After polishing that off, and unbuttoning my jeans, I knew it was time for dessert, and after having so many rich, warm dishes I felt like a change. For my final course I enjoyed three scoops of homemade banana, strawberry and mixed fruits sorbet, which was a rather refreshing end to my meal.
Winter is coming, and baby, its cold outside. If you should find yourself meandering down the Thames and in the area, Cortina at Cantina is well worth exploring if you want some wintery food different from the usual turkey laden fare.