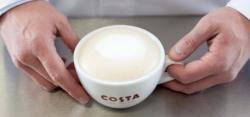 Costa Coffee have today launched a new slimmer brand of coffee, called Costa Light.
At less than 80 calories for a primo serving (the smallest cup size) Costa Light involves a new production technique of adding Costa's Mocha Italia espresso to skimmed milk in its own jug, and frothing, which creates a milder, lighter coffee.
And sweet-tooth dieters have no need to worry, with three new sugar-free syrups also being thrown into mix: sugar-free vanilla, sugar-free caramel and sugar-free hazelnut.
Following in the footsteps of other coffees such as Costa's Flat White, Costa Light has been developed in a bid to fill a gap in the market for a lighter coffee, which Costa like to call 'an indulgence without the guilt".
Gennaro Pelliccia, Costa's Italian Master of Coffee, said:
'We decided to work on developing Costa Light after listening to customer feedback which highlighted a need for a tasty, light, yet indulgent coffee. It will appeal to all who are seeking a lower calorie option with a milder coffee kick, but do not wish to compromise on taste."
With the launch, Costa are offering customers a 'taste test guarantee', where those who buy the drink to try it and do not like it, will be given the equivalent size of their usual coffee for free.
The new Costa Light coffee starts from £2.15 for a Primo, £2.45 for a Medio and £2.65 for a Massimo (with an additional 30p for syrup).