Encased in a glass skull, Crystal Head Vodka is a novel addition to any drinks cabinet and ideal for cocktail aficionados and festive parties.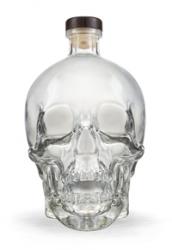 Taking its name and inspiration from the archaeological mystery surrounding the 13 quartz crystal heads found across the world, Crystal Head Vodka is the brainchild of actor and champion of the supernatural Dan Aykroyd and his business partner, landscape artist-with-an-edge John Alexander.
Smooth in taste with a clean palate, Crystal Head Vodka makes chic cocktails and monster martinis but a spirit of this quality can also be enjoyed neat with ice without any sign of a wince. With no additives, Crystal Head vodka is made with glacial aquifer water found in Newfoundland, Canada. The quadruple distillation and triple crystal filtration process that is unique to Crystal Head helps create a premium vodka unlike anything else on the market.
Available in both a 70cl skull, RRP £49.99 or a human sized 175cl Magnum skull, RRP £120, Crystal Head Vodka can be bought at Harvey Nichols, Selfridges and online at whiskyexchange.com and thedrinkshop.com. The dramatic bottle alone would make this an ideal gift for the hard-to-buy-for friend in your life or a nice touch of the macabre for those so inclined.