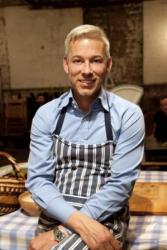 Philip Dundas doesn't go by recipes. He just knows how to cook, and presses his instinctive methods into service rustling up lovely things at his'pop-up-gone-permanent' venue, PipsDish Kitchen, in Islington. With his'substance over form'philosophy, Philip's bigger on simplicity and flavour than tedious measurements and timings. That's something most of us could do with heeding when flapping about like a headless turkey on Christmas Day with 15 dishes on the go.
Philip's practical, fluid approach is best evidenced in his book'Cooking Without Recipes', which he hopes creates cooks rather than recipe-following robots. At PipsDish @ The Garage, Philip and fellow cook Mary Doherty knock up impromptu menus in a relaxed atmosphere far removed from the typical British household at Christmas- so it might be worth taking in his tips for festive feasting ahead of the big day.
Triumphing with Turkey
Add flavour by grating over orange zest and crushed red peppercorns before covering in streaky bacon. Turkey just wants to dry out- to keep it juicy, turn it upside down after half-an-hour's cooking on a rack, letting all the juices sink through the front of the body. Having worked out your weight-to-cooking-time, check the juices are running clear half-an-hour before that time's up and, if so, take it out of the oven. Baste and cover in foil so none of the heat escapes. Leaving it to rest for that half-hour concentrates the moisture and finishes the cooking.
Beautiful Bread Sauce
I love this sauce and home-made is even nicer- not to mention incredibly simple. Peel an onion and stud it with cloves. Leave it in a pint of milk overnight. If you have some bread, break it up and leave it out overnight to go stale. In the morning, take the cloves out of the onion and put it into the processor with the bread. Mix this with the infused milk with salt and pepper until you have something like porridge. Heat very slowly and stir.
Saving the Sprouts
'Hard' or'mushy' seems to be the fate of these strong-tasting lovelies. By the time they get to the table they are often grey and cold and in my book they are definitely not a vegetable to eat al dente. So I deliberately overcook them- which is easy to do- and mash them with lots of butter and a few anchovies. You don't taste the anchovies but they add a bite that revives the flagging'sprouty' taste. Don't knock it till you've tried it.
Rollicking Roast Potatoes
For the very tastiest roasties, use goose fat if you can. Sunflower or grapeseed oil will do too. Roasters need as many corners and edges as possible, so when you cut them make sure you create as many odd shaped, multi-sided objects as possible. Par-boil for ten minutes or so and drain them. Now add the fat or oil and some chopped fresh sage. Then vigorously throw them round the pan a bit so the edges are broken and bashed. Decant the whole into a roasting dish and off you go.
 Christmas Pud Made Good
The whole heavy pudding-and-brandy-butter thing is usually too much for me after two helpings of the main course. So last year I devised a lighter, though richer, alternative- a Christmas Pudding Eton Mess. Once cooked, break up the pud in a bowl and toss with broken meringue bits and vanilla ice cream. Stir it all up then swirl through some whipped cream or brandy butter to give it an edge.
After Dinner Defrocked Friar
One of the best after-dinner cocktails ever invented. It's simply a measure each of Cognac and Green Chartreuse served over frappéd ice. Chartreuse is a herbal liqueur named after the Grande Chartreuse monastery, where it's made. The vibrant colour comes from chlorophyll. Not only is it a wickedly indulgent cocktail and digestive, it's also a cure-all for indigestion or overeating generally.
Souping Up Chestnuts
I love the smell and crack of chestnuts roasting away in the fire. Soupe aux Marrons involves boiling up chestnuts in stock and adding ground meat from a game bird and sieved. My lazy version involves a tin of chestnut purée. Mixed with aubergines and parmesan it's wintry in every way. Chop up the aubergine and fry it up in oil with salt and pepper. Cover in some stock and simmer until soft. Add in the tin of pureé and the parmesan, whizz it and serve with croutons.
Cracking Cauliflower Cheese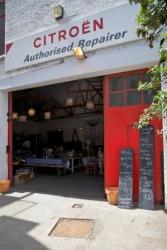 For me microwaves are the ideal machines for cooking vegetables, particularly cauli. Cook the florets whilst chopping some garlic into nice big chunks and frying. Add butter, sea salt and pepper, mix in flour so you have a smooth paste and add milk slowly, stirring constantly. Grated gruyere makes a delightfully sticky, rich sauce. Add Dijon mustard to taste- grainy or smooth, pour the sauce over the cooked cauliflower, and put under a hot grill to brown.
Gorgeous Goose
Goose breasts are tasty, hefty things- two are more than enough to satisfy four people. It's a good idea to marinate them in soy sauce, a slosh of white wine, chopped thyme, stoned prunes, sea salt and crushed red peppercorns for a few hours. Then place in a deep roasting dish with some wholecloves of garlic. Cook on a high heat to crisp the skin then turn down low. When they are done, squeeze the garlic out of its husks over the skin.
Very Good Venison
The advantage of having a huge hunk of deer means there is little chance of it drying out in the oven. Chop carrots and celery and fry up with garlic. If you have any fruit compote, slash the meat and rub as it cooks. Add lots of salt and pepper and a bottle of heavy red wine and pop into the oven at the highest temperature to sizzle. It can help to undercook the meat and, if necessary, finish it on a griddle if people don't like it too bloody.
Tips and cooking suggestions from Philip Dundas, author of Cooking without Recipes and cook at The PipsDish Kitchen. For more information, visit www.pipsdish.co.uk