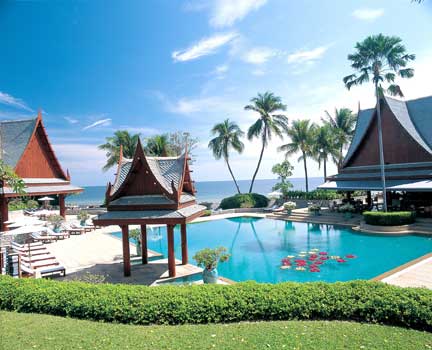 In April 2009 Paisarn Cheewinsiriwat, the acclaimed Executive Chef of Chiva-Som, Thailand's internationally renowned wellness resort will travel to London to conduct a week of prestigious events at Claridge's.
During Easter week (9 to 17 April) Chef Paisarn, celebrated for his creative gourmet spa cuisine, will team up with Claridge's Executive Head Chef Martyn Nail to host a gala dinner integrating the two chefs' signature dishes, as well as a series of spa cuisine master classes to enable food lovers to learn some of the techniques used in Chiva-Som's mouth-watering signature dishes. Visitors to Claridge's will also have the opportunity to sample Chef Paisarn's unique style of cooking when eating in the Foyer and Reading Room for the duration of the week, where he will create a bespoke menu du jour featuring three starters, three main courses and three desserts.
Located in the royal resort of Hua Hin on the Gulf of Thailand, Chiva-Som is consistently recognised as one of the world's leading destination spas and is highly regarded for its holistic approach and dedication to total wellbeing. In keeping with this philosophy, Chiva-Som places great emphasis on a balanced diet and Chef Paisarn's award-winning spa cuisine always takes guests by surprise: although it is detoxifying, low in calories, saturated fat and salt, it is plentiful, flavorsome and imaginative, made using the freshest and most wholesome herbs, vegetables and fruits. Chef Paisarn has become world-renowned and his spa cuisine classes have become a 'must do' for resort guests.
Claridge's, one of London's finest hotels, is renowned for its culinary excellence. Executive Head Chef Martyn Nail has been working in the kitchens of Claridge's since July 1986, rising through the ranks from Third Commis Chef to his current role in 2004. In the Foyer and Reading Room restaurants, Martyn and his team blend traditional dishes, long enjoyed by Claridge's diners, with new, innovative and lighter combinations.
The gala dinner on Wednesday 15 April will be priced at £100 per person (including reception drink, three course dinner and wine). Cookery master classes will be priced at £157.50 per person, while a special room rate will be available during this period only for those booking the dinner or a master class; prices will start from £249 (excluding VAT) for Superior Queen single rooms.
For more information and reservations please contact Claridge's Foyer & Reading Room on
tel: +44 (0)207 409 6307.
Thai one on
Guests visiting Chiva-Som in 2009 will have the opportunity book a special spa cuisine activity package, priced at £150 per person including; private hands-on cookery class with the Head Chef, including a trip to the resort's organic garden to select seasonal produce; private 'Lunch and Learn' activity which includes preparing your own menu and cooking the dishes with the Head Chef, then sharing the lunch together; private beach barbeque using your favourite ingredients. For reservations visit www.chivasom.com or e-mail reservation@chivasom.com