Since BBC2 aired 'The Incredible Spicemen', the nation has taken one of its stars, Cyrus Todiwala, firmly to heart. On 24th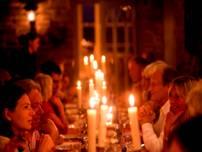 October he'll be flying solo, hosting a supperclub at Dewsall Court without his partner-in-crime Tony Singh. But Cyrus is sure to have things firmly under control even without his best buddy.
What with cooking for the Queen, regular appearances on Saturday Kitchen, and a duo of successful restaurants under his belt, the rambunctious chef is sure to take this 'evening of gastronomic indulgence' in his stride.
Dewsall Court is no stranger to the odd celebrity chef – past events have featured the food of Martin Blunos and Valentine Warner. Dewsall's supperclub menus are bespoke feasts, designed around the local seasonal ingredients Cyrus is so passionate about showcasing.
Dinner at Dewsall will take place in the orangery-style conservatory and, if the banquet's knocked you out for the night, the 'Open House' means guests can book overnight accommodation – probably a good idea after a few tipples from Chase Distillery.