Imagine not being able to nosh your way around a food fair when all around you are filling their boots to the brim. Or a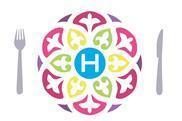 farmers' market, or an all-you-can eat buffet, for that matter. It happens if you're veggie or vegan, it happens if you have allergies, and it happens if you eat halal.
The specialist events industry has been quick to tap into the vegetarian and allergy-friendly market, but much slower to cotton on to the'haloodie' – the new generation of modern Muslim gourmets who crave cupboards fill of artisan produce and the chance to relish Michelin-starred meals as much as any other foodie.
But dragging round a non-halal event enquiring about the suitability of each and every sample you want to stab up with a cocktail stick can be a real drag. Halal Food Festival founder Imran Kauser and director Noman Khawaja certainly found it so; so created an event everyone can come and feast at with gay abandon.
And they'll be in good company, with chefs like Jean Christophe Novelli, Norman Musa, and a nice little selection of Saturday Kitchen favourites Rachel Allen, Cyrus Todiwala and Vivek Singh all in residence cooking up a storm. When they're not busy showing off at demos and masterclasses, it's a safe bet they'll be joining the queue for Big Apple Hot Dogs' haute hounds or Rola Wala's twisted Brindian wraps.
You might not leave the environs of London's ExCel at the Halal Food Festival, but in terms of fine fodder you can pretty much eat your way around the entire globe. There's South American steak, there's Malaysian pancakes, there's USA bbq, there's even the chance to feel like you're Japanese with Maki Matcha. There's surely just not enough belly space. Although, one can always find room for a Cinnabon…
In keeping with the halal ethos, there's no spirits to keep yours high. Instead, you'll have to get your rush from sugar. And with Aneesh The Chocolatier and Yum Yum Tree Fudge shovelling samples your way in the Artisan Producers' market, that's hardly likely to be hard. Neither are the beverages – but the refreshing non-alcoholic range does feature hyper-hip coconut water, mocktails and Beanstalk's cracking coffee.
Whether you happen to be a Haloodie or are just a common-or-garden foodie, the debut Halal Food Festival looks worth a wander. Another chance to while away a weekend eating, drinking, and generally merry-making is always warmly welcomed to the London table, and this one does look like a particularly tasty prospect.