Trattoria La Cambusa La Cambusa, Piazza Marina, 16 90133 Palermo, Sicily – www.lacambusa.it‎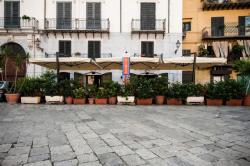 Located on Palermo's Piazza Marina, restaurant La Cambusa sits on one of the prettiest squares in a city that could best be described as a little rough around its crumbling sepia edges. 
We arrived at full-tilt, having forgotten to put our watches forward the day before, and after a little flustering and blustering we were seated outside with views of the harbour exotically dappled here and there by date palms and red hibiscus.
The restaurant itself is rather subdued, having adopted the Euro-craze for neutrals accented with a darker shade of neutral, although the statement table clothes verge on an edgier shade of yellow. Service is also restrained and quite formal, although friendly enough, and the overall effect is less traditional trattoria than elegant ristorante.
A quick glance through the menu confirmed that although Sicilian in origin, many of the dishes have been pimped for the touristic palate, offering refined versions of rustic fare with balsamic squiggles – culinary shorthand for sophistication.  
Our appetites somewhat blunted by the mid-September sun, myself and El Guapo decided to share a starter of beef Carpaccio with mozzarella and melon, a mere assemblage of ingredients you might say, but what ingredients they were.
A cannon ball of the silkiest milkiest mozzarella came wrapped with the tastiest beef to pass my lips in a long time; rich, salty and smoky with a tender bite, the simple pairing of cured meat and cheese with some honey-sweet melon and  strident Sicilian ruccola on the side was  a beautiful thing indeed.
As the sun sank into a pool of orange behind the high mountains that surround the city, we sat back and savoured a carafe of decent local vino and waited for our second course.
Unfortunately we were still waiting forty minutes later while the staff, perhaps distracted by a demanding group of American tourists, remained oblivious to my timidly raised hand. Worried that El Guapo would resort to sticking out a foot, I tracked one of the waiters into the restaurant and apologetically told him that we'd been waiting a little while for the rest of our dinner.
For my main I'd asked for the waiter's recommendation, secretly hoping he'd push the baccala with a potato velouté, or the popular bottarga roe that comes sliced or grated over pasta like a fine golden crumb, instead he recommended the swordfish balls with sweet and sour sauce.
This sounded more like something off the specials board at my local Chinese, but the waiter assured me it was "typically Sicilian" so I decided to roll with it. As it turned out the swordish balls looked more like McNuggets, and the fish had been combined with a mixture of pine nuts and raisins; this sweet Arabic influence crops up frequently in Sicilian cooking, and although pleasant enough to eat, I think it would work better with a robust and oily fish such as pan-fried mackerel, the cooking juices enlivened by the fragrant juice of those beautiful Sicilian lemons that flavour everything from Limoncello to Provola Modonie cheese.
El Guapo's almond encrusted lamb cutlets delivered more first-class produce, the excellent lamb was sweet and tender and cooked just-pink, the nubby crust adding flavour and texture with some sautéed potatoes on the side. If I had one small gripe I would have liked the fat rendered a little crisper.
We finished with a refreshing lemon granita and sat back to watch the tiny villages high up in the surrounding mountains light up. If you're looking for rustic dishes in their simplest and most original form then you might find the levels of refinement here a little safe, but for an elegant and atmospheric setting and a menu full of top-notch produce, La Cambusa makes a fine dining destination in Palermo.