La P'tite Folie, 61 Frederick Street, Edinburgh, EH2 1LH www.lapetitefolie.co.uk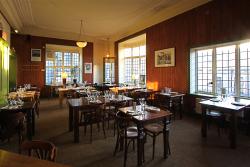 The name may translate as'the little madness' but there's a sensible business head somewhere behind this little slice of Paris transplanted to the cobbles of Edinburgh's New Town. And from our very own'French window' table we watched the August Fringe madness – there was a comedy show in the basement beneath the restaurant – and breathed a sigh of relief that it was'out there' and not in our arrondissement.
The décor is a cosy deep red complemented by rustic chic… checked table cloths, wooden floorboards, French film posters, candles, a stoneware jug of water to accompany the Ricard aperitif. I went for the Kir Royale, buoyed by the exuberance of the waitress and the general bustle of the place. In fact, against the pizzazz of the service and the pop in my glass, the amuse bouche of salad – lettuce, carrots, sweetcorn – wilted dully. The light, crusty bread, however, was unhampered by performance anxiety.
From les entrées I selected the dolcelatte and vine tomato tarte tatin with a red pepper and rocket salad and it was meltingly good, sweet tomatoes and salty black olives sunk into creamy cheese and golden flaky pastry. Under all this decadence the pastry had trouble holding its own, but pas de problème in the grande scheme of things. Iain's oak smoked salmon with capers and lemon salsa was smoky and not salty, the accompanying potatoes scantily clad in a light lemony dressing.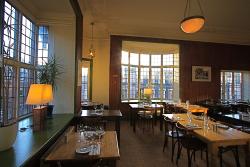 My main course of braised lamb in a red wine and cherry jus was as flavoursome and satisfying as such a long production should be. It may have been Fringe time outside but there was no flash mob happening in this kitchen, and I would say my lamb was quite a veteran – its taste more farmyard than field and all the better for it. I would have liked a little more jus with my meat and potatoes but overall, a lovely dish. On the other side of the rustic tablecloth, my husband's main of halibut with risotto was visually unprepossessing, looking as it did, like a bit of fish floating in a bowl of porridge, but was definitely swimming rather than drowning in a creamy combo of basil and celeriac and a subtle hint of chive.
The restaurant has just launched, for a limited time only, its very own La P'tite Folie wine, a Domaine de la Baume Vin De Pays D'oc merlot-cabernet and while its depth and fruit went well with the lamb, the halibut would have welcomed something lighter. We were a bit carried away on the fanfare of presentation. It was good with Iain's closing dish of cheese, which included brie and a bleu d'Auvergne. Though served at room temperature the selection could, he said, have been a little more tangy and more pungently'fromage' than what we're used to on this side of the Channel Tunnel.  My dessert was a hazelnut and blueberry cheesecake – pleasant enough in a delicate, creamy way, but a little washed out, in looks and flavour, the only real burst of blueberry coming from the accompanying whole fruit or two on the plate.
The dessert menu on the whole was rather short on anything we might have looked for had we really been sitting in a Parisian brasserie. It seems sticky toffee pudding is running amok through Scotland's high and low roads but I doubt that it's dancing in les rues of France yet. Maybe the auld alliance doesn't stretch to pudding. The owner of La P'tite Folie, Virginie Brouard, is forging a new alliance of her own however, having raised over £15,000 in the past few years to feed vulnerable children in Ethiopia.
The Daughters of Charity has been working to provide a basic health service to orphans and vulnerable Ethiopian children since 1927. After visiting Ethiopia several times in the past few years, Virginie is now supporting a feeding programme and has ambitions to set up her own charity. It seems quite fitting that the business acumen behind Edinburgh's'little madness' is helping alleviate hunger elsewhere in the world by recreating a little slice of Paris and some top quality French cuisine.