1st December
Fruity wasabi nuts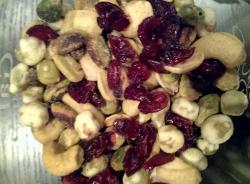 1 large bag of mixed blanched nuts
1 whole tube of ready- prepared wasabi
large handful dried cranberries
Lightly toast the nuts in a hot oven or in a frying pan, shaking frequently.
Squeeze the wasabi onto the hot tray and toss the nuts until fully covered.(avoid breathing through your nose at this stage, it will hurt!)
Allow to cool, then toss in the dried cranberries for a festive twist.
Serve immediately or store in an airtight container.
2nd December
Olive, anchovy and sundried tomato tapenade toasts
For the tapenade:
1 large handful green olives
1 large handful black olives
2 cloves garlic
½ chopped onion
½ handful sundried tomatoes
3-4 anchovy fillets
squeeze of lemon juice
handful fresh parsley
salt and pepper
olive oil
For the Melba toast:
For the tapenade, whizz all the ingredients in a blender with plenty of oil. For a coarse result, pulse briefly, or make it smoother by blitzing for longer.
For the Melba toast, remove the bread crusts and carefully slice the bread through the middle to give two very thin slices.
Place on a baking tray in the oven on its lowest setting until dry and crisp. (Stores very well.)
To serve, spread liberally on the Melba toast, or eat as a dip.
3rd December
Cherry tomato and pearl mozzarella kebabs with pesto dip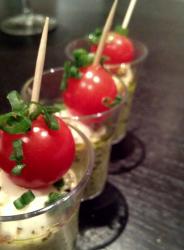 For the dip:
Basil pesto
Crème fraiche
For the kebabs:
small punnet cherry tomatoes
jar of mozzarella pearls/bocconcini
small bunch spring onions, finely sliced
For the dip, mix the pesto with crème fraiche and spoon into shot glasses.
For each kebab, push a cocktail stick through a cherry tomato and a mozzarella pearl.
To serve, perch a kebab on top of one of the dip-filled shotglasses and sprinkle with spring onion.
4th December
Risotto bites
your favourite risotto (leftovers are ideal), chilled until firm
1 egg, whisked
panko bread crumbs, to coat
vegetable oil, to deep-fry
Roll the cold risotto into ping pong-sized balls.
Dip the balls in whisked egg and then roll in breadcrumbs.
Heat the oil in a large pan and deep-fry the balls until golden and crisp, drain excess oil and serve hot.
5th December
Pear, Stilton and walnuts on toast
a ripe pear
few drops lemon juice
thin baguette (ficelle)
small wedge Stilton
small handful walnuts, coarsely crushed
Peel and slice the pear, place in water and lemon juice for half-an-hourhour until soft.
Thinly slice the ficelle and toast.
Top each slice with a good portion of sliced or crumbled Stilton.
Lay the pear slices over the Stilton and top with crushed walnuts.
6th December
Potted shrimp and crusty bread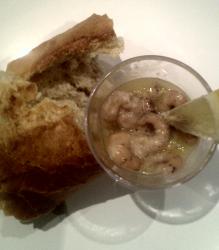 1 pack of brown shrimp
70g of 'slightly salted' Lurpak butter
½ clove of garlic, minced
Melt butter on low heat, add minced garlic and allow to infuse. Mix in the shrimp.
Spoon shrimp into individual shot glasses and pour over melted butter to cover.
Chill until set.
Serve with plenty of good, crusty bread.
7th December
King prawn ceviche with avocado
1 pack raw king prawns
juice of 2 limes
juice of 1/2 an orange
1 tbsp olive oil
1 chilli, finely sliced
1 clove garlic, diced
1 small knob ginger, finely diced
salt and pepper
coriander, chopped
1 large avocado, to serve
Place raw king prawns in a bowl. Add all other ingredients and toss well to coat the prawns in the dressing.
Refridgerate for about 3 hours until the citrus has 'cooked' the prawns. Dice an avocado evenly, add a small squeeze of citrus juice to prevent discolouring, and season.
Divide amongst individual canapé spoons and top each with a ceviched king prawn.
8th December
Baked Cambozola with smoked salt and rosemary and garlic soldiers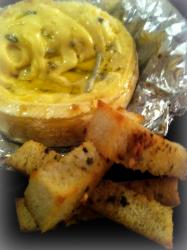 Ingredients:
1 whole Cambozola
smoked salt
1 loaf bread, unsliced
fresh rosemary, chopped
olive oil
2 cloves garlic, crushed
handful fresh parsley, minced
salt and pepper
Method:
Preheat the oven to medium high.
Cut a circle out of the soft rind in the top of the cheese.
Add a dash of olive oil, replace the rind, and add a dash more oil.
Place in an ovenproof dish and sprinkle with smoked salt (or plain sea salt flakes).
Cut crusts off the loaf of bread and chop into chunky soldiers.
Mix the olive oil, garlic, rosemary and parsley and coat the bread in the mixture.
Put the soliders on a baking tray, and put in the oven along with the cheese.
Bake until the soldiers are crisp and golden and the cheese is completely melted.
Peel back the rind and dig in.
9th December
Cheat's mini Baileys and orange cheesecake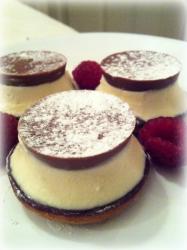 Ingredients:
300g Philadelphia
3 tbsp icing sugar
2-3 good glugs Baileys
200ml double cream, whipped
packet of Jaffa cakes
chocolate discs
Method:
Cream Philadelphia, icing sugar and Baileys together until smooth.Fold the whipped cream into the mixture.Chill for at least 30 minutes.Divide mixture amongst the packet of  Jaffa cakes.Top with a chocolate disc.
10th December
Goats' cheese, fig, sherry, basil and lemon toasts
Ingredients:
30ml sherry
1 tsp sherry vinegar
½ tsp sugar
2 ripe figs, thinly sliced
4 slices sourdough bread, thinly sliced
1 small log goat's cheese, sliced
fresh basil, torn
finely grated lemon zest
olive oil
Method:
Mix the sherry with the vinegar and sugar.
Lay fig slices flat on a plate and pour over sherry mixture.
Allow to marinade for at least 30 minutes.
Toast the sourdough slices, and divide the goats' cheese and figs evenly between them.
Sprinkle over chopped basil, lemon zest and a dribble of olive oil.
11th December
Pink Champagne, lemon thyme and raspberry jellies
Ingredients:
3 tbsp caster sugar
4 sheets gelatine
200ml water
600ml pink Champagne
3-4 sprigs lemon thyme
small punnet raspberries
Method:
Dissolve the sugar in the water and add lemon thyme sprigs.
Bring the water to blood temperature, allow to infuse with the herbs for 15 minutes.
Strain to remove lemon thyme and dissolve gelatin leaves.
Pour in the pink Champagne.
Divide half the raspberries amongst Champagne glasses. 
Pour Champagne jelly into the glasses and drop in the remaining fruit.
Chill jellies until set.
12th December
Blue cheese stuffed dates with Parma ham and crushed pistachios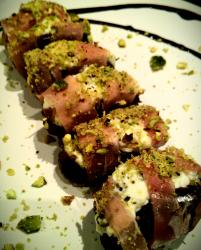 Ingredients:
75gblue cheese
75g cream cheese
1 box dates, ready-to-eat
few slices Parma ham, cut into strips
handful unsalted pistachio nuts, toasted and crushed
Method:
Blend cheeses together.
Divide stuffing amongst the split dates.
Wrap a strip of Parma ham firmly around each date.
Sprinkle with crushed pistachios to serve.
13th December
Black pudding and quail egg tartlet
Ingredients:
½ pack ready-rolled puff pastry
1 black pudding, cooked and crumbled
a dozen quail's eggs, boiled, peeled and halved
2 spring onions, thinly sliced
small handful fresh parsley, finely chopped
olive oil
Method:
Preheat the oven to 200 degrees C.
Cut puff pastry into 12 disks and cook until puffed and golden.
Top disks evenly with cooked black pudding and two quail egg halves. 
Sprinkle with spring onion, parsley and olive oil to serve.
14th December
Three cheese baubles
Ingredients:
60g Parmigiano Reggiano, grated
60g buffalo mozzarella
50g hard mozzarella, grated
60g brie, rind removed
1 tsp dried oregano
1 pack Parma ham
plain flour, to dredge
1 egg, beaten
large handful Panko breadcrumbs, seasoned with black pepper and 1tsp Parmagiano
vegetable oil, to deep-fry
Method:
Place the cheeses and oregano in a bowl and work hard with your hands until you have a a dough-like texture (or, for less mess, use a blender).
Roll the mixture into individual balls.
Wrap each ball in a slice of Parma ham, making sure the cheese mix is entirely enclosed.
Roll each ball in flour, then egg, then the seasoned breadcrumbs.
Heat the vegetable oil and carefully deep-fry each ball for 40-60 seconds until golden, remove and drain on kitchen towel.
Serve hot, with a spicy tomato salsa or other condiment for dipping. 
15th December
Smoked salmon, egg  & caper vol-au-vents
Ingredients:
3 eggs
½ pack ready-rolled puff pastry
1tbsp capers, chopped
mayonnaise, to bind
small pack smoked salmon
1/2  lemon, juice and zest
Method:
Preheat the oven to 200 degrees C.
Hard-boil, peel and grate the eggs.
Cut the pastry into 2" disks and bake until they are puffed and golden.
Mix grated eggs with the capers and enough mayonnaise to bind, and season.
Fill the cavity of each puff pastry disk with the egg mixture.
Top each vol-au-vent with salmon, lemon zest and a little lemon juice.
16th December
Hot crispy chicken with satay shots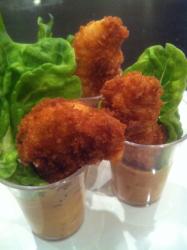 Ingredients:
1 pk mini chicken fillets
flour, for dusting
1 egg, beaten
2 handfuls Panko breadcrumbs
Oil, to deep-fry
2 red chillies, finely chopped
Small knob ginger, finely chopped
2 cloves garlic, crushed
3 heaped tbsp peanut butter (crunchy or smooth)
1 tbsp sesame oil
fish sauce
soy sauce
1 lime, zest and juice
1 Little Gem lettuce, leaves sliced, to serve
Method:
Coat chicken fillets in flour, dip in beaten egg and then the breadcrumbs.
Deep fry in hot oil until golden and crisp.
Fry chilli, ginger and garlic in sesame oil until translucent and soft.
Add a few large splashes of fish sauce, soy sauce and a squeeze of lime.
Turn heat down low, add the peanut butter and stir continuously.
Add water to thin the sauce to preferred consistency.
Finish with lime zest, and serve in shot glasses with a slice of lettuce.
17th December
Feta, sundried tomato, spinach and rosemary pinwheels
Ingredients:
200g Feta
4 large sundried tomatoes, finely chopped
2  heaped tablespoons tinned spinach (well drained)
½ sprig rosemary, very finely chopped
1 tbsp toasted pine nuts
1 pk ready-rolled puff pastry
olive oil
Method:
Preheat the oven to 200 degrees C.
Mix feta, tomatoes, spinach, rosemary and pine nuts until fully combined.
Spread the mixture onto the pastry sheet and roll up tightly like a Swiss roll.
Slice the rolled cylinder into chunks 2cm thick and place, rolled side up, on a baking tray.
Brush with olive oil and bake for around 15 minutes until golden.
18th December 2012
Cheat's smoked mackerel and horseradish rillettes with pickled beetroot toasts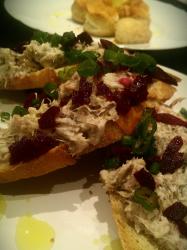 Ingredients:
1 pk smoked mackerel
2 heaped tbsp creamed horseradish
1/2 clove garlic, minced
French baguette, thinly sliced and toasted
2 pickled beetroots, chopped
chives, to garnish
Method:
Remove skin from mackerel fillets.
Mash the fish with the creamed horseradish, garlic, and seasoning.
Spoon the mixture onto toasted slices of baguette and top with chopped pickled beetroot.
Garnish with chives.
19th December 2012
Chorizo and bacalao fritters
250g potatoes
2 eggs
½ 'ready-to-eat' chorizo, cut into small cubes
300g salt cod, soaked in water until desalinated (at least 24 hours, changing water regularly), and flaked
2 tbsp finely chopped fresh parsley
½ lemon, juice only
splash of milk
1 shallot, minced
oil, to deep-fry
Peel and boil the potatoes.
Separate eggs and whisk the whites to soft peaks.
Grate the potatoes, mix in egg yolks, cubed chorizo, flaked cod, parsley, milk, lemon juice and shallot.
Fold the egg whites into the mixture.
Using two spoons, shape the mixture into quenelles.
Fry the quenelles in hot oil until crisp and golden.
Serve with a squeeze of lemon juice and a simple aioli.
20th December
Pate de foie gras on brioche with caramelised shallot jam
Ingredients:
1 tbsp butter
12 shallots, sliced very thinly
1 clove garlic , minced
2 heaped tbsp caster sugar
1 tbsp finely chopped fresh thyme leaves
100 ml Balsamic vinegar
250 ml red wine
1 tin shop-bought pate de foie gras (or as much as you can afford!)
4 brioche buns, sliced into rounds, buttered and fried on each side
Method:
Melt butter in a pan over a low heat and fry the shallots and garlic for about 5 minutes until they begin to caramelise.
Add the sugar and thyme leaves, season, and continue to cook until sugar is dissolved and the mixture becomes sticky.
Loosen the mixture by adding the Balsamic vinegar and red wine.
Continue to cook on a low heat until the liquid reduces and the shallots are so soft that they break up when pressed with the back of a spoon.
Spread foie gras pate onto fried brioche rounds and top with a teaspoon of shallot jam.
21st December 
Christmas Rolls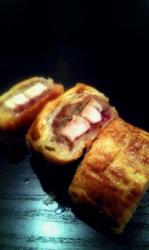 Ingredients:
1 large sheet shop-bought puff pastry
6 thin slices Serrano ham
cereal bowlful sausagemeat or stuffing
large handful shredded turkey
½ jar cranberry sauce
1 egg, beaten
Method:
Preheat the oven to 180 degrees C.
Lay the puff pastry out on a floured surface and line with Serrano ham.
Spread the stuffing across the ham slices.
Layer the shredded turkey down the centre of the stuffing.
Top the turkey with the cranberry sauce.
Roll the pastry around the filling to make a long cylinder.
Make a few slashes along the top with a sharp knife.
Crimp the edges so that the pastry is fully sealed and brush all over with beaten egg.
Sit on a baking tray lined with parchment bake until golden and cooked through.
To serve, slice into bite-sized chunks.
22nd December 
Dark chocolate & mincemeat festive clementine with macadamia 'snow'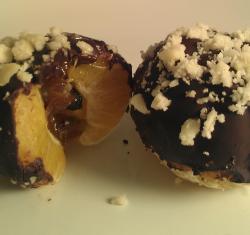 Ingredients:
6 clementines
6 heaped tsp mincemeat
100g bar good-quality dark chocolate, melted
10 macadamia nuts, crushed
Method:
Peel the clementines, leaving a small amount of peel at the base.
Carefully pull back the segments of each clementines
Drop a heaped teaspoonful of mincemeat to the centre of the clementines and push the segments back together.
Holding the base, dip the exposed Clementine flesh into the melted dark chocolate.
Dust with crushed macadamias and place in fridge until chocolate is set.
Once set, remove the remaining peel and serve.
23rd December
Salmon supper salad
Ingredients:
1 pack smoked salmon trimmings
250g new potatoes, boiled, cooled and cubed
handful raw Brussels sprouts, shredded
1 tbsp walnuts, toasted and crushed
3 tbsp creme fraiche
1 tbsp olive oil
1 lemon, zest only
1 tbsp chopped fresh dill
salt and pepper
Method:
In a bowl, combine the salmon, cold potatoes, sprouts and walnuts.
Add the creme fraiche, olive oil, zest, herbs and toss well to coat the salad in the dressing.
Season to taste and serve.
24th December
Stir-up Sundae
Ingredients:
500ml tub quality vanilla ice cream, softened
1 clementine, zest only
10 chestnuts, roasted and coarsely chopped
50g marzipan, chopped
6 tbsp mincemeat
splash of sherry
50g dark chocolate, grated
Method:
Stir the orange zest, roasted chestnuts and marzipan chunks into the softened ice cream.
Store in the freezer until required.
Warm the mincemeat with the sherry.
Divide the ice cream amongst 6 serving bowls, and top each serving with a tablespoonful of sherried mincemeat and a good sprinkle of grated chocolate.