Charity Action Against Hunger is a proponent of the best approach to food poverty- turning the gluttony we Westerners are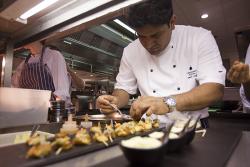 serendipitously afforded into aid for those who can't even sate their appetites, let alone feast. So, if the good effects are proportional to the amount we eat, a five-course banquet is guaranteed to make a pretty substantial difference.
Especially when it's hosted by six of the UK's top Asian chefs. Aptly for a meal hosted by The Cinnamon Kitchen's Abdul Yaseen, Vivek Singh will be getting his tandoor on. He's joined by Quilon's Sriram Aylur, bringing a little of his trademark Southern spice; seasoned chef and vegetable expert Anjum Anand; Sameer Taneja, showcasing the stylish and clean style of Benares; and Shelina Permalloo– the innovative Mauritian Masterchef. 
Potential guests are required to offer a minimum donation of £100 through the Action Against Hunger website– a small price to pay for a Champagne Tattinger reception, and a cracker of a meal accompanied by Kingfisher beer and Indian wines from Anokhee. The evening's compered by Hardeep Singh Koli, and you'll be chowing down to the ambient rhythms of Mitel Purohit's tabla, getting down to funky sounds from fusion band S-Funk, and sitting down to a high-end silent auction.
According to the legend that is Gordon Gecko, greed is good- a sentiment to which Action Against Hunger concurs, using its LoveFoodGiveFood appeal to enable 5200-plus aid workers to alleviate food poverty annually for over 7 million people in more than 40 countries worldwide. So dig deep this Diwali, and let that dynamic culinary quintet dish you up a treat- this is one meal that'll keep more people than just you considerably fuller for longer.
The Diwali Banquet is organised by Action Against Hunger and takes place at 6pm on Sunday 18th November at The Cinnamon Kitchen, 9 Devonshire Square, EC2M 4YL, www.cinnamon-kitchen.com
To attend, donate a minimum £100 through endhunger.actionagainsthunger.org.uk/diwalibanquet
Follow Action Against Hunger on Twitter @acfuk