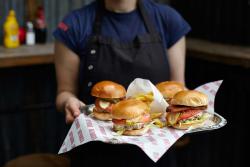 Dirty Burger have decided it was about time it spread the love again, and now it's taken its well respected burgers to Exmouth Market in Clerkenwell, a ten-minute stroll from either Angel or Farringdon tube station.
While their cocktails are being shaken, diners can choose from the signature Dirty Burger Cheeseburger (£6), Dirty Bacon (£7) and the vegetarian Dirty Cop-Out (£5), alongside other favourites including Crinkle Cut Chips (£3.50) and Onion Fries (£3.50).
With a drinks menu that includes homemade milkshakes, through to ice cold beers on draught (Brew Dog and Heineken), Dirty Burger caters for all thirsts.
www.eatdirtyburger.com, or follow Dirty Burger on Instagram, Twitter and Facebook.
15 Exmouth Market, Clerkenwell, London EC1R 4QD
OPENING HOURS:
Mon – Thurs: 12pm -11pm
Fri – Sat: 12pm – midnight
Sunday: 12pm – 10pm