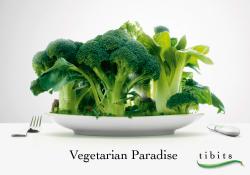 Carnivores are being challenged to eat vegetarian for a night – joining in with this year's Ethical Eats Restaurant Ramble on Thursday, 26th May. The journey will take you to three of London's most famous vegetarian restaurants including Saf, voted London's best by the Evening Standard in 2010.
Many of London's restaurants have done much to reduce their impact on our environment, often by using ingredients from small-scale local (for London) producers. This evening, organised by London Food Link, which champions sustainability in food, will show how easy it is to improve sustainability by reducing your meat consumption. And, with the three restaurants in this ramble, we think you won't feel you've made any sacrifices.
Your first stop will be Tibits (on Heddon Street, off Regent Street) where you can load your plate with veggie starters from the "food boat" buffet – and kick start your evening with a cocktail. A short stroll takes you to the Soho vegetarian institution that is Mildreds, for a main course in its private dining room – plus organic wine. Next, with transport provided, you'll go to Saf in Hoxton, noted for food that promotes wellbeing, to round off your evening with pudding and a digestif.
Act fast; tickets (£45 a person, including drinks) are limited. Choose the time (there are two sittings: one at 6.30pm and the second at 7.30pm) and let them know if you have other dietary requirements (all food and drink will be suitable for vegetarians).