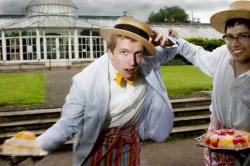 The culinary industry as you have never seen it before. A culinary arts event in its third year, the Experimental Food Society Spectacular 2012 comprises of three parts, a two-day exhibition, followed by a'British Icon' themed banquet and talk.
The ticketed daytime exhibition, held at the East Wintergarden in the heart of London's Canary Wharf on Friday 16 November (12.00pm -7.00pm) and Saturday 17 November (11.00am -6.00pm), is a spectacular and all-new display by Britain's most talented and pioneering gourmet artists.
The two day exhibition features an assemblage of butter sculptors, food landscape artists, food magicians, cake artists, food futurologists, conceptual food artists and food model-makers to name a few. Consultants to Michelin starred chefs and global food organizations as well as exhibitors at some of the world's top art houses, they will assemble in a new culinary destination to challenge your perception of food and show you that there is more to it than just swallowing.
Featuring installations, demonstrations, samplings and talks, the Experimental Food Society Spectacular offers guests a sensory feast in which they can meet these pioneering foodies first hand, marvel at their creations, take part in one of the interactive exhibits, sample and eat edible art in addition to experimental elixirs, watch some of the artists as they create their works on site, listen to a talk, purchase books and foodie items and pick up tips on how to get experimental in the kitchen.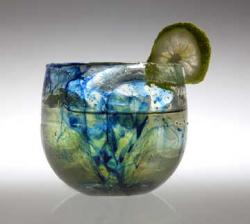 Highlights include installations and contributions by: A*, Annabel de Vetten, Alchemist Dreams, Bougie Macaron, Blanch & Shock, Cake Doggy Dog, Cake For Breakfast, Caroline Hobkinson, Carl Warner, Condiment Junkie, David Meldrum, Dominic Davies, Dr Morgaine Gaye, Emily Crane, Falassa, Fernando Laposse, Gingers Comfort Emporium, John Van der Put, Kyle Bean, Laura Hadland, Lick Me I'm Delicious, Louise Bloor, Made With Love By Me, Michelle Sugar Art, Paul Baker, Paul Wayne Gregory, Pop Bakery, Professor Charles Spence, Queen of Hearts Couture Cakes, Rosalind Miller, Sean O Neill, Simon Smith, Teatime Production, The Broken Hearts, The Curious Confectioner, The Girl With The Golden Cup, The Novel Diner, The Robin Collective and Thom Peterson to name a few…
Guests can also book tickets for the'British Icon' themed banquet at the Cook Book Cafe at Intercontinental London Park Lane on Monday 19 November (7.00pm -11.00pm) at which 120 diners will partake in a unique and surreal multi sensorydining experience inspired by all that is very great about Britain. A fivecourse menu designed by theExperimentalFood Society in collaboration with Paul Bates, Head Chef at the Cook Book Cafe at Intercontinental LondonPark Lane, the banquet will be accompanied by a range of interactive food related experiences as well as a tailored soundtrack courtesy of The Broken Hearts.
The event will culminate with a talk at the Victoria and Albert Museum as part of the V&A Connects series titled'British Food Artistry' on Friday 23 November (6.30pm -9.00pm) at which the Experimental Food Society will take guests through some ofthe works of art unveiled at the Spectacular and the processes undertaken to create them, in addition to discussing what it means to be a British food artist today.
Accompanied by video footage and photography, the tickets that are free of charge, include Experimental Food Society canapés and two complimentary glasses of wine.The Experimental Food Society was founded by Alexa Perrin, whose long  term passion for food and drink inspired its inception. As well as an annual Spectacular, the Society features an online members directory and a series of Talk's. The society also takes commissions throughout the year. Says Alexa "After the extraordinary success of last years Experimental Food Society Spectacular, Britain's culinary think tank returns to showcase their work and demonstrate just how exciting food can be."
Experimental Food Society ExhibitionDate: Friday 16 November & Saturday 17 NovemberTime: Friday: 12.00pm – 7.00pm & Saturday: 11.00am -6.00pmLocation: East WintergardenAddress: 43 Bank Street, Canary Wharf, London, E14 5ABTickets: £5.00Purchase Tickets at: www.wegottickets.com/EFS
Experimental Food Society BanquetDate: Monday 19 NovemberTime: 7.00pm -11.00pmLocation: Cook Book Cafe at Intercontinental London Park LaneAddress: 1 Hamilton Place, London, W1J 7QYTickets: £90.00Purchase Tickets at: www.wegottickets.com/EFS
Experimental Food Society TalkDate: Friday 23 November Time: 6.30pm-9.00pmLocation: Hochhauser Auditorium, The Victoria and Albert MuseumAddress: Cromwell Road, London, SW7 2RLTickets: Free but ticketedTickets at: www.vam.ac.uk or by phone: 020 7942 2211
For more information about the Experimental Food Society please go to: www.experimentalfoodsociety.com