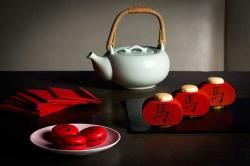 This January sees a unique twist on Chinese New Year with an exclusive collaboration between Michelin-starred Chinese dim sum teahouse Yauatcha and Harvey Nichols. The Harvey Nichols visual display team have designed a one-off window display, to be exhibited at Yauatcha in Soho from 20th January to 10th February.
As 2014 is the Year of the Horse, the creation focuses around a large red origami-style Perspex horse jumping into the front window, with a flowing mane and tail brought to life with almost 1,000 bright red folded envelopes, hand made by luxury paper merchant GFSmith. The window display will extend back into the restaurant, with red paper envelopes flying from the horse and forming patterns in the air above and around guests. Smaller origami horses will also appear along the front and side windows. 
Throughout the collaboration each guest at Yauatcha will receive a red envelope containing vouchers for fashion and beauty treats, along with a bespoke Chinese New Year cocktail created by the Yauatcha and Harvey Nichols bar managers and available at the Fifth Floor Bar. During the campaign eight special golden tickets will be given to guests at random, containing lavish prizes such as meals and cocktail masterclasses at Yauatcha and makeovers at Harvey Nichols.
In addition, Hakkasan group's Executive Pastry Chef Graham Hornigold has created bespoke macarons and petits gateaux, which will be added to the existing array of award-winning desserts, macarons and handmade chocolates. The limited edition flavours include: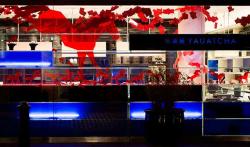 Red Macarons depicting the Chinese character for the Year of the Horse, filled with mandarin ganache and mandarin pâte de fruit. Mandarins are traditionally given at Chinese New Year, and symbolise luck and fortune.
Red Petits Gateaux in the shape of a traditional Chinese New Year lantern, depicting the Chinese character for the Year of the Horse. A jasmine mousse filled with a honey panna cotta centre, with caramelised mandarins and sesame brittle. The mandarins symbolise luck and fortune, the sesame seeds fertility.
Price: Macarons – £1.60 each, £9 per 6 pieces, £18 per 12 pieces. Petits gateaux – £5.90 (retail), £8.50 (a la carte).
Guests at Yauatcha on the afternoon of Sunday 2nd February will view the spectacle of the traditional Chinese dragon dance, with the raucous theatrical procession of the dragon visiting every table with its colourful and noisy celebratory performance.