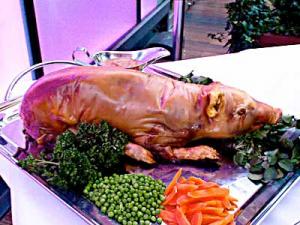 They say it's spring, but out on the deck at Le Bouchon Breton there was a definite wintry nip in the air last night. With British phlegm we stood around pretending it was the South of France, holding enormous Steins of lager and waiting for the little piggies to trot up.
This is La Fete Alsacien at Bouchon Breton, taking its inspiration from the buzzing Alsacienne taverns of Colmar and Strasbourg and it features celebrated local delicacies such as Flammenkeuche, suckling pig served with its own juices alongside tomato provencales, sautéed oyster mushrooms and frites, Kougelhof with dark chocolate crème Anglais and last but not least a stein of beer (2 pints) per person or ½ a bottle of house red or white wine per person to wash it down.
The pigs duly produced on a tray do rather make you feel a bit guilty, as if eating Pinky and Perky, but that soon passes as the pork is moist, tender and packed full of flavour. Not sure the chips were homemade though, but sadly that seems to be all too often the case even in France itself where Mr Brake's Gallic equivalent can often be seen unloading around the back of the Bistro. Plus ca change eh?
You don't have to eat outside of course, but the terrace is very pleasant if and when the sun comes out and is rain proof too.
La Fete Alsacienne is available throughout May and June for both lunch and dinner at Le Bouchon Breton and costs £40 per person with a ¼ of a pig for two people, ½ a pig for 4 people and a whole suckling pig for 8 or more. To book a table just call reservations at Le Bouchon Breton on 08000 191 704