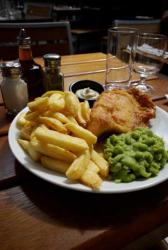 Let celebrity restaurateur, Tony Allan hook you into his latest addition to the fish! Group. fish! Kitchen in East Sheen will open in the last week of November, so get yourself down there to taste the best Fish and Chips in South West London!
At the new fish! Kitchen, Tony Allan will continue to adhere to his founding fish! principles – freshness, sustainability and good value for money. Fish and Chips has never tasted so good. Allan offers his customers top quality fish cooked in a multitude of different ways, from the classic Fish and Chips, to unique twists on traditional fish dishes loved throughout the UK. Why not try the succulent Oysters, or the innovative Swordfish Club Sandwich; all of which are prepared with care and love at fish! supplied by its very own Fishmonger, Jarvis, in Kingston.
The exclusive fish! Group prides itself on maintaining an optimum level of quality at all times, by sourcing its fish and shellfish from solely sustainable stocks. A close relationship of trust and commitment with all of its suppliers ensures traceability of all the fish products. From the moment the fish is caught, up until it is served on the plate, the customer is sure to know its origin – guaranteeing a delicious gastronomic experience for all fish lovers out there!